| | | |
| --- | --- | --- |
| Defiance | | |
Written by Ivan Radford
Friday, 09 January 2009 11:20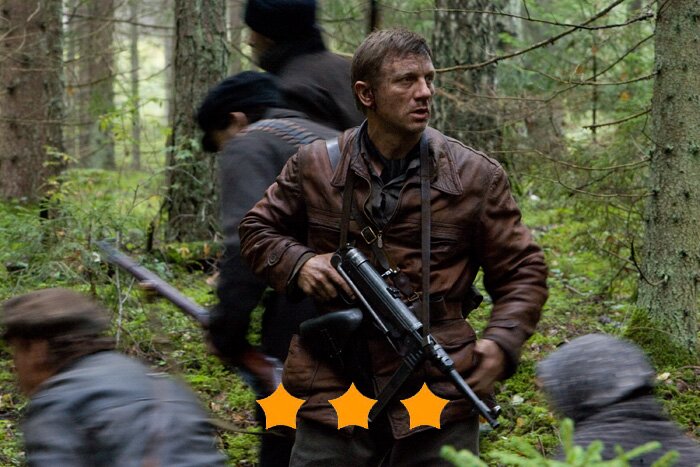 Director: Edward Zwick
Cast: Daniel Craig, Live Schreiber, Jamie Bell
Certificate: 15
Trailer
He proved it in Munich, now he's doing the same in the Belarussian woods: Daniel Craig can do a token foreign accent. Doing that Hollywood thing of playing another nationality whilst still speaking English, he is Tuvia Bielski, eldest of the Bielski clan. Leading his brothers Zus (Schreiber – the angry one) and Asael (Bell – the quiet one) into the forest, they seek a way to survive the German slaughter of WWII.
Last Updated on Friday, 16 January 2009 11:42
Read more...
| | | |
| --- | --- | --- |
| BAFTA Rising Star Shortlist Revealed | | |
Written by Ivan Radford
Thursday, 08 January 2009 13:07
And the winner of the 2009 Orange British Academy Film Award for Rising Star is...

Last year, Shia LeBeouf's star was deemed to have risen the highest (no surprises there, given that he was in Transformers, Disturbia, voiced the lead in Surf's Up and had finished filming Indiana Jones Conquers the Martians.)

Then, come to think of it, the Rising Star Award often seems to go to someone who is already doing their bit to brighten Hollywood's glittery night sky. Eva Green got her kit off for Bernardo Bertolucci in The Dreamers yonks before being crowned queen of 2007, which came on the back of her jaw-dropping performance in
Casino Royale (hottest. Bond Girl. Ever.) Oh, and Kingdom of Heaven, of course. Not anyone's greatest moment, but a high-profile flop if ever there was one. But this is not to mention James McAvoy (swoon), the first winner of the award, who was famous from Shameless but not much else, and picked up the plaudit after his turn as child-friendly Mr Tumnus - from that point on, his star didn't rise. It soared.

Why such a mixed bag of known unknowns? Well, Rummy, it's all down to the audience. This is their award. So get ready to click in the name of cinema and cast your vote for 2009...
Last Updated on Thursday, 08 January 2009 13:12
Read more...
| | | |
| --- | --- | --- |
| Slumdog Millionaire | | |
Written by Ivan Radford
Tuesday, 06 January 2009 10:38
Director: Danny Boyle
Cast: Dev Patel, Madhur Mittal, Freida Pinto
Certificate: 12A
Trailer
Who wants to be a millionaire? Pretty much everyone in the slums of Mumbai. Everyone, that is, except for Jamal (Patel). But it's this impoverished Indian answering the infamous fifteen questions. One away from the jackpot, he is arrested for fraud and savagely interrogated. How does someone like him know the answers?
Last Updated on Friday, 16 January 2009 11:44
Read more...
| | | |
| --- | --- | --- |
| Che: Part One | | |
Written by Ivan Radford
Friday, 02 January 2009 12:28
Director: Steven Soderbergh
Cast: Bernicio Del Toro, Demian Bichir
Certificate: 15
Trailer
The man whose face adorns a thousand t-shirts, who overthrew a dictator, and single-handedly fuelled the cigar industry in Cuba, seems like the ideal subject for a Hollywood biopic. But up to the plate steps Soderbergh, the most un-Hollywood of all Hollywood helmers. The maverick to the industry. LA's Bergerac. And so the resulting piece is something a little different to what you'd expect.

Last Updated on Sunday, 18 January 2009 21:12
Read more...
| | | |
| --- | --- | --- |
| The Spirit | | |
Written by Ivan Radford
Thursday, 01 January 2009 23:05
Director: Frank Miller
Cast: Gabriel Macht, Samuel L. Jackson, Scarlett Johansson, Eva Mendes
Certificate: 12A
Trailer
It may seem natural that, after years of influential and masterful handiwork, Frank Miller, the visual genius behind

Batman: Year One

and

Sin City

, the Golden Palm-nominated artiste extraordinaire, should hobble home from the Hollywood party of his life and, relaxing in his ensuite facilities, squeeze out a bit of a turd. Now this is not just a turd, this is a Frank Miller turd – it is shiny, sleek and sexy, like no other turd before it, but under the seductive surface sheen, it still has the whiff of a turd.

Last Updated on Thursday, 01 January 2009 23:08
Read more...
| | | |
| --- | --- | --- |
| Yes Man | | |
Written by Ivan Radford
Friday, 26 December 2008 00:00
Director: Peyton Reed
Cast: Jim Carrey, Zooey Deschanel, Rhys Darby
Certificate: 12A
Trailer
"Say it a million times. Say it a million more times. And the word you will have said two million times is 'yes'" – Terrence Stamp in full ham mode as Terrence Bundling, head of a cult-like self-help movement, whose members say "YES!" to every opportunity that comes their way. Into this way of life walks no-man Carl (Carrey), whose routine existence is about to be blitzed together with a potent dose of positivity.

Last Updated on Monday, 29 December 2008 15:40
Read more...
| | | |
| --- | --- | --- |
| The Day the Earth Stood Still | | |
Written by Ivan Radford
Friday, 12 December 2008 09:00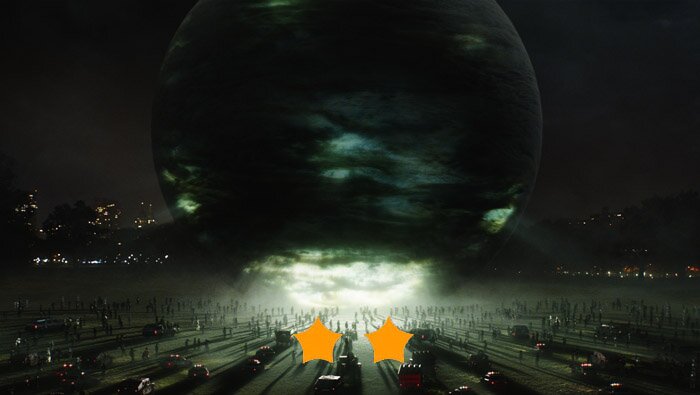 Director: Scott Derrickson
Cast: Keanu Reeves, Jennifer Connelly, Jaden Smith, Kathy Bates, John Cleese
Certificate: 12A
Trailer
In 1951, we had a close encounter with an extra-terrestrial. He brought ill tidings, threatening to extinguish the human race if they continued their hostile ways. Evidently, someone thinks we weren't listening, because 57 years later Scott Derrickson (who?) turns up with a computer and tells the story all over again. Naturally, things need a little tweaking – an update here, a pixel there – and the result is a much more modern piece.

Last Updated on Sunday, 14 December 2008 21:29
Read more...
<< Start < Prev 251 252 253 254

255

Next

>

End

>>


Page 255 of 255