| | | |
| --- | --- | --- |
| Top 23 films to see at the 23rd Raindance Film Festival (2015) | | |
Written by Ivan Radford
Wednesday, 23 September 2015 06:26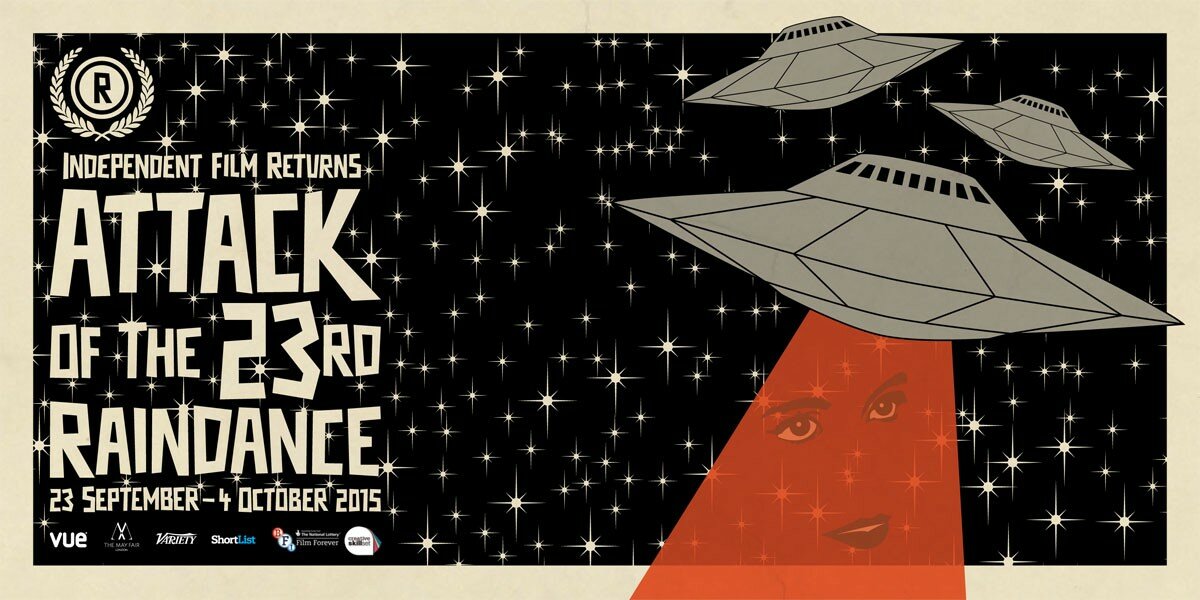 Today sees the start of one of the most exciting events in the UK film calendar: the Raindance Film Festival. Now in its 23rd year, the festival - which has premiered the likes of Pulp Fiction, Memento, The Blair Witch Project - is one of the largest festivals dedicated to indie film in Europe.
Together with its courses, which introduced Guy Ritchie to Matthew Vaughn many moons ago, and its Web Fest - the only festival in the UK devoted to independent digital and streaming series - Raindance is a wonderful force for supporting indie film-makers. And, equally exciting, is the kind of place where you'll see films that you simply wouldn't find anywhere else.
Teaming up with VODzilla.co, which is supporting both straight to VOD Raindance titles and the Web Fest, I'll be covering the 2015 Raindance festival in as much detail as is humanly possible over the coming weeks. With 90 features, 200 odd shorts and a whole heap of events, that's a lot of festival. To start with, here are the top 23 films to see at the 23rd Raindance Film Festival.
Newcomer
Kai Barry's second feature opens this year's festival, starring My Brother the Devil's James Floyd and Without a Trace's Anthony LaPaglia. It follows Alex, the newest member of a special ops team working for the US government, whose first mission going wrong - only for him to have to go on the run and prove to his bosses he hasn't betrayed them. An indie spy thriller? There's a phrase you don't get to say anywhere nearly often enough.
Shelter
One of the best things about Raindance is that star names never turn up in the ways you expect. Here, the always-excellent Paul Bettany makes his directorial debut with this tale of a homeless couple, Tahir and Hannah, who find each other on the streets of New York. Anthony Mackie and Jennifer Connelly star.
Swansong
Douglas Ray's Swansong follows Mark, singer, songwriter and, erm, kidnapper: when he discovers his wife has been having an affair - a revelation that prompts him to do the logical thing and takes both her and her lover captive. Flashbacks, paranoia and poison surface in a film that stars the fantastic Antonia Campbell-Hughes opposite none other than Matt Berry.
1 World 100 Lonely
Brian McGuire is no stranger to Raindance, with several of his previous films not only screening at the festival (Prevertere and Window Licker) but also proving some of the most interesting and memorable. He returns once more with 1 World 100 Lonely, shot on an Android phone and weaving together the love stories of four people.
The Arms Drop
The true story of one of the biggest intelligence screw-ups in the history of India? Documentary The Arms Drop should already have your curiousity. Add in the name Tobias Lindholm, the writer of A Hijacking, Borgen and The Hunt? It should certainly have you attention.
God's Acre
It's hard to walk down the street these days without being reminded of the housing crisis currently plaguing the UK. But in case you haven't noticed, debut director JP Davidson's film will remind you. God's Acre follows Malcolm, a failed property developer driven to bankruptcy due to the recession. With his only possession a house that's rotting around him, Malcolm must renovate and sell in order to repay his creditors.
Deep Web: The Hunt for Dread Pirate Roberts
Narrated by Keanu Reeves, Alex Winter's latest documentary (Downloaded debuted at Raindance in 2013) follows the arrest and trial of Ross Ulbricht, the 30-year-old American believed to have created black marketplace Silk Road.
Digital Dissidents
Speaking of computers... In the wake of Edward Snowden, Cyril Tuschi's documentary examines the power that can be brought down upon whistleblowers. From the 1970s and 1984 to the modern day, what counts as privacy? And is the truth worth exposing?
Social Suicide
Continuing the theme, Bruce Webb's film examines the online age where the number of clicks defines popularity and success, as the police piece together the mystery behind two teen deaths (and one attempted suicide) through the footage recorded by their mutual friend, Balthazar. As the police interrogate Balthazar while piecing together masses of footage - CCTV, Jackass style stunts, video blogs, happy slaps, snapchats and mobile uploads - Balthazar plots to escape from custody so he can save his best friend.
Kicking Off
Two football fans unhappy a referee's decision take matters into their own hands in Matt Wilde's fourth-wall-breaking-split-screening crowd-pleaser.
We Will Be World Champions
While we're on the subject of sport... From football to basketball and underdogs of another type, as we follow the story of a young team of Yugoslavians leading their country to victory in Ljubljana.
Racket
When was the last time you saw a film from Bosnia? Racket follows photographer Amil, who goes back home to Bosnia to find his dad under threat from gangsters, leaving him to become involved in Sarajevo's underworld.
Rickie Lee Jones: The Other Side of Desire
Raindance has increasingly stepped up its music game in recent years. A case in point is Gail Harvey's film, The Other Side of Desire, which portrays musician, poet and rock star Rickie Lee Jones through interviews, concert footage and videos at home.
The Reaper
This Slovenian drama follows a woman throughout the course of an evening, as a broken-down car leads to an evening of past secrets, present loneliness and rural community.
Mile End
Graham Higgins' film, screening in competition, sees Paul drawn into a sinister game of revenge by his running mate, Paul. Just how well does he know this new friend?
Slum-Polis
There are few phrases more intriguing than "post-apocalyptic Japan". Ken Ninomiya's film is set in Slum-Polis, an island city cut off from the rest of the country, where the death of a local crime boss sparks a change in the balance of power.
Alice in Marialand
After a horrific crash, Tonatiuh finds new romance, but is haunted by his past - a conflict that leads to a surreal, playful study of love. The cast includes Stephanie Sigman, soon to be soon in the new Bond film, SPECTRE.
Reality
This year's Closing Gala is a typically intriguing affair, as Quentin Dupieux - the man who brought us Rubber, the tale of a sentient, homicidal rubber tyre, returns with a mosaic of weirdness. Watch out for Napoleon Dynamite himself, Jon Heder.
Gored
Meet Antonio Barrera, the most-gored matador in modern bullfighting. It's a title that doesn't exactly ring with success - or does it?
Star
This modern-day fairytale sees three familiar characters - an alienated teen, a wannabe actress and a cruel stepmother - interact, as Anna Melikyan explores the nature of performance.
Le Dep
Don't you hate it when you're working in a shop in Quebec and someone tries to rob you? Lydia may well hate it even more when she successfully recognises the attacker and stops him...
Wasp
Philippe Audi-Dor directs this tale of a couple - James and Olivier - who find that their holiday in France is disrupted by an old friend, Caroline. Cue the world's most awkward love triangle.
The Poet of Havana
Another musical film about a curious figure, Ron Chapman's portrait of Cuban singer Carlos Varela captures the social significance of an artist whose lyrics have spoken out against the island's community government.
What are you most looking forward to seeing?
The Raindance Film Festival runs from Wednesday 23rd October to Sunday 4th October. For more, head to the official website.