| | | |
| --- | --- | --- |
| Top 14 films of 2014 | | |
Written by Ivan Radford
Wednesday, 31 December 2014 17:37
It says a lot about the quality of a year when you have a top 10 that you think is set in stone by June. Even more telling is that, after several re-writes and re-drafts, another movie can come along in December and push its way straight in - albeit in a polite, overtly British manner, while carrying a marmalade sandwich. From family-friendly comedies and music-driven masterpieces to pulse-pounding thrillers and disturbingly perplexing sci-fi, these are the best films I've seen in UK cinemas in the past 12 months.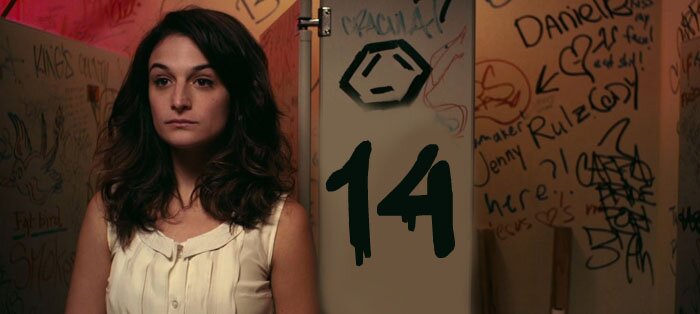 Obvious Child
"You know what makes you special?" best friend Nellie (Hoffmann) asks Donna (Slate). "I'm really good at folding laundry?" comes the sad reply. "No, you're unapologetically yourself on stage." That's the one thing you can definitely say about the heroine of Obvious Child: Donna Stern, a stand-up comedian, is never sorry for being her. She farts in front of people. She tells strangers about her love life. The film takes the same matter-of-fact attitude. Pregnancy, for example, is another step in her life, not the thing that defines it. The result is a film that's adorable, amusing and, crucially, a film in which every joke is character-driven, from angry break-up jabs to quips about folding laundry. It's unapologetically itself. And that makes it very special indeed. A delight.
'71
If the phrase "the troubles" doesn't carry much weight with the modern generation of cinema-goers, '71 is a heavy blow right to the gut. The film follows Gary (Jack O'Connell), a young private who gets shipped off to Belfast to keep the peace. But things go to pot at a scarily quick speed, leaving him stranded behind enemy lines in the Catholic neighbourhood - and badly wounded. It's then a dash to survival for the soldier, a tightly-wound cat-and-mouse thriller in which every single act is simultaneously personal and political. Rather than take sides or present us with social commentary, director Yann Demange simply takes the direct consequences of conflict, regardless of context, and shoves them in our face. Crikey, it's good.
12 Years a Slave
Artist-turned-director Steve McQueen has made a name for himself for tackling difficult subjects head-on – and for doing it beautifully. 12 Years a Slave continues the first part of that tradition, but skips the second, as the director presents Solomon Northup's horrible true story of being captured and forced into slavery with minimum fuss – and maximum power. Chiwetel Ejiofor leads an astonishing cast in a film that feels as important as it is upsetting.
Tim's Vermeer
How did Vermeer capture the light so perfectly, 150 years before photography was developed? Enter Tim, a friend of Penn and Teller, with the ideas - and time - to come up with his own solution: a mirror. It may not sound thrilling, but this delicately composed documentary succeeds because it doesn't try to answer the fascinating question of technology vs art, or debunk Vermeer's skill: rather, it praises the imagination and inventiveness of both the legendary painter and the modern inventor. There's a world between the two men, but in terms of pure creativity, there's no difference at all. They're not just artists; they're magicians. It's like watching the best episode of Jonathan Creek in years.
Paddington
"Come to London and you'll be sure of a warm welcome," an explorer tells Paddington and his uncle and aunt in Darkest Peru. In a year where we've seen the rise of UKIP and the online abuse of women at the hands of gamers, this delightful adaptation of Michael Bond's books is a lovely reminder that humans are capable of kindness and tolerance. The multi-cultural message extends right down to the film's comedy, which combines physical slapstick with an onslaught of puns and musical gags. There's bear humour, innit. You'll leave wanting to hug the rest of the audience.
Her
What are you doing right now? Sitting at a computer? Standing on the train? If you're not looking at your phone this very minute, you've got it in your pocket, right? Spike Jonze's superb drama is set in a time when operating systems learn with every pixel they process. No wonder, then, that a man (Joaquin Phoenix) falls in love with his OS (Scarlett Johansson). What could have been a twee, oversimplified romance or a laboured anti-tech diatribe, though, has a complexity that woos as much as it warns. The result isn't just a love story for the 21st Century; it's a wake-up call and a lullaby in equal measure. Funny, tragic and - like all the best romances - completely consuming.
The Grand Budapest Hotel
"There is still a glimmer of civilisation in the barbaric slaughterhouse we know as humanity." That's Monsieur Gustave (Ralph Fiennes) to his young bellboy protege Zero (Tony Revolori) at The Grand Budapest Hotel. Located halfway up a mountain in the tiny, war-torn Eastern European Republic of Zubrowka, it's a frontier for wealth, sophistication, old women with large suitcases and fluffy pink pastries. Wes Anderson's tribute to the lost decorum of the past as well as the act of storytelling itself feels almost like a summation of the director's career; combining the naivety of Rushmore with the spot-motion anarchy of Fantastic Mr. Fox, it zips along with mechanical precision, a clockwork dainty that ticks relentlessly against the gloomy tide of fascism.
Frank
We all know the story. Guy joins unknown band. Guy discovers his inner creative self. Unknown band becomes famous. Frank is not that story. Inspired by the persona of Frank Sidebottom, Lenny Abrahamson's film isn't a straight-out biopic. It isn't a comedy either. Or a drama. Or a musical. It's a mix of all three – and, as a result, manages that to be that rare thing: unpredictable. Following Jon (Domnhall Gleeson), who joins Frank's bizarre band after the previous keyboard player tried to kill himself, the script modulates between the happy and sad, never signalling the key changes – even when Frank starts telling Jon what his facial expressions are beneath his massive papier mache head. Partly a response to an X Factor-led society and partly an exploration of mental illness, the chorus of commercial vs musical success and artistic vs cognitive imbalance results in an ensemble piece that manages to be something delightfully unique.
Starred Up
"Starred Up means you're a leader," says prison veteran Spencer (A Field in England's Peter Ferdinando) to Eric (Jack O'Connell), the new kid on the block. He's been transferred from juvenile into adult jail two years early. For the system, that means he's too dangerous. For the people inside it, that means he's all set to rise to the top. The problem? That would mean going past Neville (Ben Mendelsohn), a senior con. Who also happens to be his dad. Their relationship is what makes David Mackenzie's drama so absorbing; a constant uneasy balance between silence and conflict, encouragement and torment. Both use their bodies to communicate or, more often, intimidate. Is that prison making them that way? Or is it their natural relationship that pushes them both into these aggressive roles?
We Are the Best!
I have never been in a punk band. Neither have Bobo (Barkhammar) or Klara (Grosin). But that doesn't stop them. Heading to their local Stockholm rec centre, the young teenagers grab a bass guitar and a drum set and immediately start rebelling. What are they rebelling against? Anything they can find. "Hate the sport!" they yell over and over, banging the instruments loudly. The fact that they can't play them simply doesn't matter. They sound dreadful, adorable – and 100% real. That's the energy that We Are the Best! captures so perfectly. Amid the period setting, all 70s hangovers and dismissive male musicians, Lukas Moodysson's anarchically unstructured script is a joyous record of tiny expressions of identity – one that teenagers and adults alike will find inspiring.
Inside Llewyn Davis
"If it's never new and it doesn't get old, it's a folk song." That's Llewyn Davis (Isaac), an amazing guitarist and a screw-up of a human being. We follow Llewyn as he strums his way through life a bar at a time, getting beaten up in alleys and surfing the sofas of people who don't like him very much. Losing cats, sleeping with friends' wives and never becoming famous, this moving character study explores the pain of loss as well as the necessity of art to express it. Strolling the sorrowful folk scene just before Dylan arrived, the Coens' anti-hero is a talent without recognition. Does Llewyn deserve stardom at all? Lost in the intimacy of his on-stage performance, the directors, like Davis himself, soon stop caring. It's not about success. It's what he does.
The LEGO Movie
Think The LEGO Movie is going to be one long advert for LEGO? Well, it is. But it also isn't. Why? Christopher Miller and Phil Lord. The LEGO Movie is the perfect fit for the directors of Cloudy with a Chance of Meatballs and 21 Jump Street. Freed by the toy's potential to make anything, the duo's anarchic comedy is more apparent than ever. Barely a plot point goes by without it being undercut by a silly comment or a slapstick stunt (Lord and Miller have a real feel for the clumsy, blocky nature of their subject's form). For the business lords at LEGO, that makes it a flawless piece of corporate marketing. For everyone else, that makes it an anti-capitalist celebration of beating the system. Deconstructing a whole movie only to build something unpredictable from the pieces? Believe the song they play throughout: everything is awesome.
Under the Skin
Jonathan Glazer's bizarre sci-fi begins with a sequence that could either be something launching through space or the creation of a human. That existential ambiguity – and hint of voyeurism – festers as Glazer introduces an alien (Scarlett Johansson) driving round Glasgow. Shot on the sly, with the actress clad in black wig and furs, she picks up men using innocuous smalltalk from her bright, red lips. Haunting, moving, hypnotic. However you interpret it, the one thing – perhaps the most fascinating of all – you can say for certain? This alien's reaction to the film would be completely different to any of our own.
Boyhood
There's something unspeakably wonderful about the fact that if you were to see Boyhood now, you would have a different reaction to it than at any other point in your life. Because Boyhood isn't just about a boy: it's about how life is experienced by everyone around us, from his sister to his mum and even his Redneck granddad, who gives him a loaded shotgun for his birthday. Shot over 12 years, every single character develops over the production's lifespan – and each one triggers a personal memory unique to a person in the audience. Directed by Linklater with the same unobtrusive style as the Before Sunrise trilogy, Boyhood is less like watching a film, and more like watching life itself. What does it mean? "I don't know," admits Ethan Hawke's dad. "Neither does anyone else. We're all just winging it. The important thing is you're feeling stuff." Unique, ambitious and astonishingly moving, Boyhood is a phenomenal achievement of filmmaking. More than that, though, it's a chronicle of life across a generation; a whole load of people just winging it. You feel stuff every second.
Honourable mentions
Grand Piano
The Beat Beneath My Feet
22 Jump Street
How to Train Your Dragon 2
Calvary
Noah
Only Lovers Left Alive
They Came Together
Dawn of the Planet of the Apes
The Square
Stranger by the Lake