| | | |
| --- | --- | --- |
| 1 reason why I don't go back to Slashfilm every day | | |
Written by Ivan Radford
Monday, 07 July 2014 13:38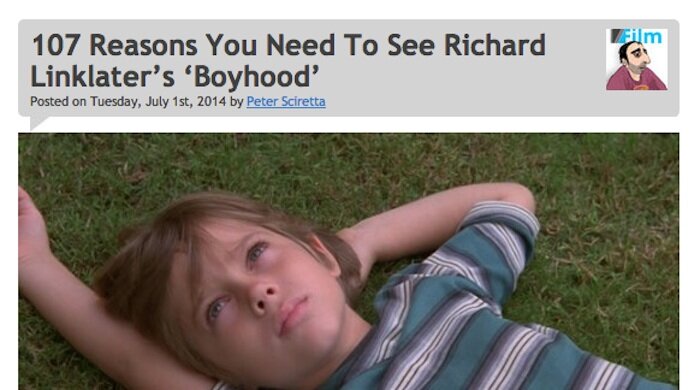 Last week, Slashfilm published an article called "107 reasons you need to see Richard Linklater's Boyhood". It looked to be an interesting exercise in subverting a Buzzfeed-style article to promote a small, indie film. Until you clicked on the link and saw this message: "Seriously, fuck you."
The article is a middle finger stuck right up at its readers - and that single digit is the one reason why I don't read Slashfilm.
"You really need me to list 107 reasons to see this incredible film?" the post continued. "You went and paid $15 bucks to see Transformers: Age os Extinction in 3D even though you hated the other Transformers films and saw all the bad reviews in your twitter stream… but you can't just take our word on this epic indie film?
"You've already heard us rave about this film many times over the past six months… But you haven't bought ticket yet…"
The article raises all sorts of questions, not least those of grammar and snobbery. (For an excellent takedown of that, see The Shiznit, who continue to write essentially what I think in a more eloquent way than I can manage.)
But it also shows an astonishing lack of self-awareness on the part of a website that has written roughly 8 times as many articles about Michael Bay's blockbuster as it has Boyhood.
Why? The same old reason: traffic. Click bait like "107 reasons you need to see Richard Linklater's Boyhood" is exactly the kind of thing you expect to find cluttering up Slashfilm's endless cycle of blog posts about anything and everything, including - yes - 40 Things I Learned On The Set Of Transformers: Age Of Extinction.
If you're going to run a website and make that decision to become a marketing machine, fair enough. But to shovel adverts for the latest Transformers sequel onto your readers' monitors and then tell them off for not paying attention to a tiny film you've (relatively) barely featured is absurd. Scratch that, it's insulting.
"Fun fact; you can make a healthy living from the ad-fees garnered from running a website solely about films like Boyhood," tweeted Adam Batty, the chap who runs the always-impressive Hope Lies.
It's true - you can. But what helps sites like Hope Lies isn't their coverage of Boyhood, but that (in my opinion) they have the thing Slashfilm does not: integrity. And without self-awareness, it's hard to come by.
Slashfilm could well defend their slew of Transformers content as a response to their readers wanting to read it. It wouldn't be a dissimilar argument to that used by UK site What Culture when they posted a spoiler-filled article about Iron Man 3 before the movie was even released. While both sites arguably show a lack of respect for their readers with such pieces, Slashfilm's post shows a lack of respect for themselves - or, to put it another way, a misunderstanding of what their site is.
Every time an article is published by a website, it sends a message: this is what we are about. Choose to cover something, choose not to cover something; every decision positions you and confirms your identity. Recently, I started a video on-demand magazine called VODzilla.co, devoted to all things digital video. Does it cover cinema releases? No, of course not. That wouldn't fit in with the site's remit.
For Slashfilm, before publishing such an article, the question is simple: Is it a website about Boyhood or Transformers? If the answer is Boyhood, why publish the article at all? People reading the site are more likely to see it over Transformers anyway. If the answer is Transformers, why swear at the people they have been promoting Michael Bay's blockbuster to? If the answer is both, and that the website welcomes all kinds of films and film fans, why be hostile at all?
Now stop me if I'm getting carried away here, but that lack of self-awareness and integrity is something that seems to be a problem in media today.
With print publications struggling, media's in a bit of a bewildered state. Sites are desperate to do anything to keep their audiences up: traffic, the assumption goes, is the most important thing.
And so articles spread across multiple webpages to garner more clicks is a common practice, while every little event - be it a tweet or a leaked set photo - is pounced upon by film sites and speedily reported, re-reported and then, hours later, corrected. If it gets changed later, who cares? That just means people will click on it again, right?
That willingness to readily publish rumours, "exclusive" photos, teasers for trailers, etc, seems to be spreading to subject matter too.
Empire Magazine, a film publication, has dedicated lots of coverage to the small screen for some time - something that its editor, Mark Dinning, admitted was controversial in an interview with the Guardian. Nonetheless, despite that awareness, the website's title still promises "Movie News and Interviews" with no mention of TV; their coverage is good, but it's a confused brand statement to say the least. Other movie blogs have followed suit. A number of film sites cover not just TV but plays without question as to whether it fits within their remit - a fact helped, perhaps, by the fact that a film PR company has expanded their very efficient and effective work into the theatre realm.
(Away from film, just look at the Metro, where Buzzfeed-style lists now regularly crop up in an attempt to emulate the popular site. Does it have anything to do with news? Of course not. Or The Daily Mail's side bar of shame and regular publication of 'controversial' columns to drive up rage traffic from angry users.)
It's telling that in the last year, a number of new websites have sprung up to counter the trend; a backlash of principle. Verite Magazine has found success in its monthly digital format, offering coverage of off-beat, independent and foreign language cinema. Film Divider has also launched since then with a similar, equally admirable, intention - although, despite their name, they also cover TV. VODzilla.co, meanwhile, has gone from strength to strength thanks to its unique scope of coverage.
What they have in common is not just a niche focus, but an awareness of what their sites are about. This is, of course, still possible with bigger, broader websites - and, indeed, is achieved by many, both within film criticism and outside of it. Den of Geek has established itself as not just a hub of all things nerdy, but one with a strong moral (as well as editorial) stance that never ceases to impress. The same is true of TheShiznit.co.uk, who are not afraid to call a spade a spade. If by spade, you mean something that isn't a spade. As I mentioned earlier, they often seem to write what I think in a more eloquent way than I can manage - and that's important. If I visit there, I know what to expect. Well, that and Photoshopped movie posters. These websites don't just have identities, but integrity.
If you want to run a website that covers Transformers in extensive detail, great. The internet is a wide open place with space for any and all opinions. But if you're going to do that, don't blame your readers for reading your content. Well, don't do it and expect me to have any respect for you.
But hey, what do I know? Look at the comments on Slashfilm's article: "Hahahaha, that's awesome!" said one. "Best post ever, probably it pretty much explains why I keep on coming back to /film every day," said another. Meanwhile, The Daily Mail enjoys nearly 11.8 million visitors a day. And the Metro recently hit 1 million unique daily hits.
Maybe this really is what people want. But if that requires a website to start telling its loyal readers to go fuck themselves, you wonder if something's gone wrong somewhere.