| | | |
| --- | --- | --- |
| How long is the runway in Fast & Furious 6? | | |
Written by Ivan Radford
Monday, 20 May 2013 06:31
[DISCLAIMER: This article is entirely unscientific and full of holes - much like Fast & Furious 6.]
If you saw Fast & Furious 6 this weekend, you're probably still laughing at the film's craziest set piece, which could be released as a standalone short titled Car vs Plane: The Movie. Flagged up by the trailer right from the off, it's the movie's signature action sequence - and it's completely bonkers. Not because a team of cars chase an about-to-take-off Russian cargo plane down a runway at absurd speeds - but because they continue to do so for 15 flipping minutes.
Which begs the question: how long IS the runway in Fast & Furious 6? After working out the killcount in The Raid last year, we did some movie maths to find the answer, starting with the take-off speed of the Antonov AN-225...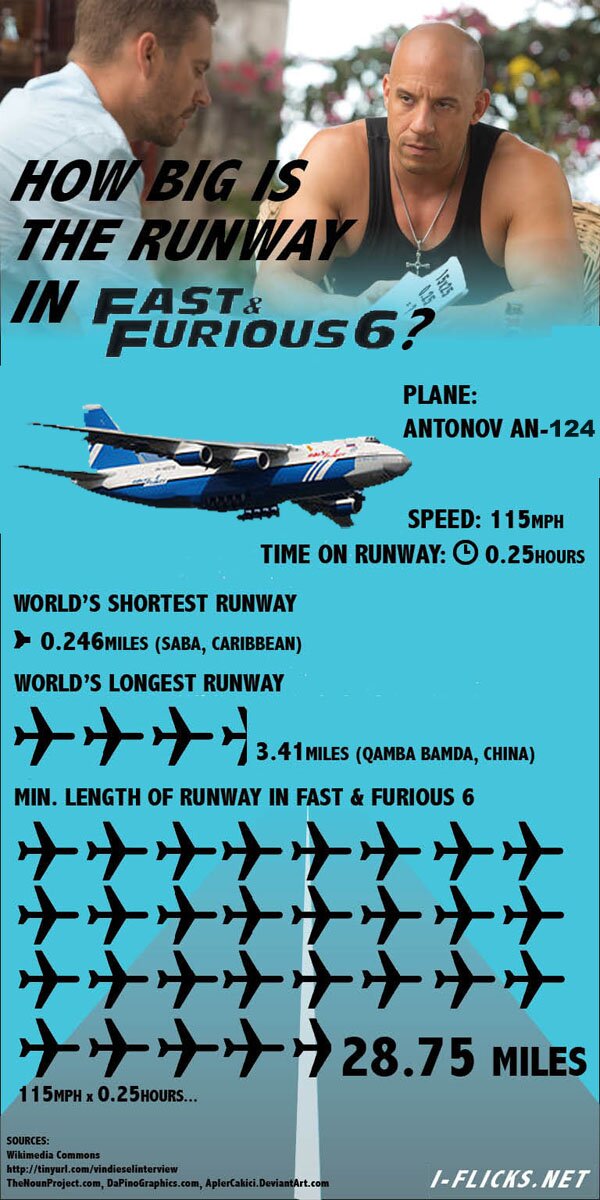 28.75 miles. That's not just the world's longest runway. Unless they were at an airport on another planet - or they kept driving around in a circle - that runway doesn't exist. And, of course, there's always the chance that my timing of 15 minutes is off. They could've been taxiing down that strip for even longer.
28.75 miles. Let's put that into context. Mount Everest is 5.498 miles high. Most airplanes fly at an altitude of 6.82 miles. Felix Baumgartner broke records last year by free-falling to Earth from 24 miles high, right on the "edge of space".
If the runway from Fast & Furious 6 stretched upwards from the planet's surface, it would tower above all of them. And you thought Vin Diesel's flying headbutt was ridiculous.
Needless to say, this is precisely why I love the Fast & Furious movies.