Blog
| | | |
| --- | --- | --- |
| Happy Easter from Anchorman 2's new teaser trailer | | |
Written by Ivan Radford
Tuesday, 21 May 2013 06:44
I'm fairly sure a simple man in oversized glasses shouldn't make me laugh this much. The new Anchorman 2 teaser trailer:
Add a comment
| | | |
| --- | --- | --- |
| Fast & Furious 6 sounds better in Japan | | |
Written by Ivan Radford
Friday, 17 May 2013 15:19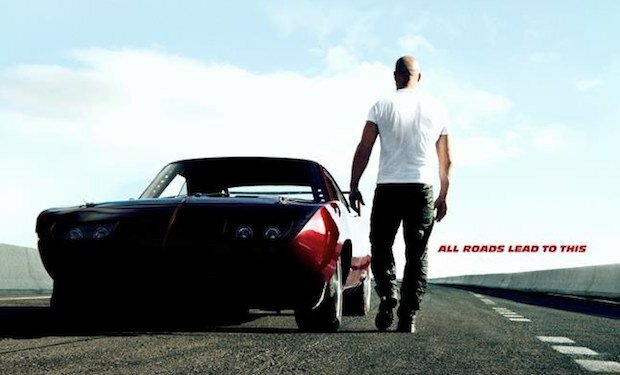 It's hard to have a favourite thing about Fast & Furious. Is it the dreadful dialogue? The sweaty hairless bromance between The Rock and Vin Diesel that sees them whaling on each other like two psychotic baked potatoes? The fact that you could rename the movies "Car vs Boat"? "Car vs Train"? "Car vs Tank"? "Car vs Plane"? The climax of Car vs Plane, which takes place on the world's first never-ending runway?
Nope, my new favourite thing about this truly dreadful franchise - and let's be clear about this: it is dreadful - is the fact that its quality is summed up beautifully by its titles.
I don't mean 2 Fast 2 Furious (the worst title of a sequel ever, rivaled only by Speed 2: Cruise Control), I mean what it's called in Japan, where, for some reason, the names on the poster oddly reflect the level of badness within.
What do they call Fast & Furious 6? Fast Six? Furious Six? No, in Japan they call it Wild Speed: Euro Mission.
Read more...
| | | |
| --- | --- | --- |
| Warning: Gravity teaser trailer not suitable for people who like breathing | | |
Written by Ivan Radford
Friday, 10 May 2013 08:32
The teaser trailer for Alfonso Cuaron's Gravity has finally arrived and it's great - full of stunning pictures of earth, silence and George Clooney in a spacesuit.
Gravity is out in UK cinemas on Friday 18th October. Read on to watch the teaser trailer. Just one tiny warning: you may not be breathe for the next minute and a half.
Add a comment
| | | |
| --- | --- | --- |
| The World's End trailer - prepare for LAGERGEDDON | | |
Written by Ivan Radford
Wednesday, 08 May 2013 07:08
The World's End. This Is The End. 2013 is officially the year of the Apubcalypse. Stonernihilation. Slackertastrophe. Or, even more serious, Lagergeddon. And now we have our first glimpse of what Lagergeddon will look like thanks to the trailer for The World's End. The answer? It looks very funny.
What's that? Simon Pegg and NIck Frost in a video? Directed by Edgar Wright? With a really strong premise and some amusing gags? Shocking, I know.
More shocking, perhaps, is that Mark Heap is finally in their ensemble cast. The Spaced star missed both Hot Fuzz and Shaun of the Dead. His presence here only promises to make it even more, erm, promising.
So there you have it: Britain's Lagergeddon is now looking way more enjoyable than America's Lagergeddon. So if the earth starts quaking and supervolcanoes start erupting this summer, do the smart thing: stay in the UK and head to your nearest cinema for some Cornetto-flavoured end of days.
Here's The World's End trailer. It's out on Friday 19th July.
Add a comment
| | | |
| --- | --- | --- |
| Listen: Man of Steel soundtrack - Trailer music ("An Ideal Hope") | | |
Written by Ivan Radford
Tuesday, 07 May 2013 06:41
A few weeks back, I got rather excited by the Man of Steel trailer music, which gave us a glimpse of the Hans Zimmer soundtrack for the first time. Now, that backing score has been officially released on Soundcloud by Watertower Records. It's called An Ideal Hope and isn't listed on the album tracklist - a trailer-only composition? - but it's a better version than the one that was recently leaked on YouTube.
Starting off with that quiet piano that got me all in a fluster, it's a glorious wee number, full of rising perfect fifths rather than Zimmer's trademark minor third; a John Williams nod that pays tribute to the original Superman theme without ever using it. If the Man of Steel soundtrack turns out like this, my ears will be rather happy.
Have a listen:
Cheers to Den of Geek for the spot. Head over there to hear more of my regular soundtrack musings.
Add a comment
| | | |
| --- | --- | --- |
| 11 things I learned from a Cineworld questionnaire | | |
Written by Ivan Radford
Thursday, 02 May 2013 16:18
If you didn't go on Twitter during your lunch break today, firstly well done. You're a credit to your workforce. Secondly, you missed one hell of cinema survey - the kind of PR exercise that it would take a very careless company/employee to screw up really badly.
Enter Cineworld. One of the UK's more affordable multiplex chains, they have a good loyalty scheme and an impressive dedication to showing arthouse films. Even in Enfield, where that kind of shizzle can get you knifed. I quite like them - even if their hotdogs do bounce. (Hotdogs shouldn't do that.)
But now I like them even more. Because thanks to their survey, which was apparently sent out to random folk today (and Craig Skinner, who saved the whole thing as a PDF), I've realised that my views about crazy things like equality and grammar - LOL - are completely out of step with the modern world. If only someone had told me all this stuff sooner.
Here are 11 things I learned from Cineworld's questionnaire (unless it was sent out by some other cinema chain, in which case disregard all mentions of Cineworld and please don't sue me):
Read more...
| | | |
| --- | --- | --- |
| Populaire UK trailer is just plain adorable | | |
Written by Ivan Radford
Thursday, 02 May 2013 06:22
French woman goes to work for sleazy lawyer. Knocks over everything in the office. But types like a an elephant on a steamroller. The solution? National typing competitions, of course. It's sounds like a strange plot, but as the new Populaire UK trailer shows: Regis Roinsard's romantic comedy is just plain adorable.
It's out in the UK on Friday 31st May - and trust me, it's absolutely flipping gorgeous. Here's the full video:
Read our Populaire review from the Glasgow Film Festival.
Add a comment
| | | |
| --- | --- | --- |
| Giant monsters, giant robots and Charlie Day, oh my! Pacific Rim WonderCon footage online | | |
Written by Ivan Radford
Tuesday, 30 April 2013 16:01
Guillermo Del Toro's Pacific Rim has released its WonderCon footage online - and it's full of giant monsters, giant robots and giant monsters punching giant robots. But while Del Toro's influence is finally evident in the design of the Kaiju (it's hard not immediately start playing spot the suspiciously-familiar Gojira-era creatures), the thing I'm most excited about? Charlie Day.
I never thought I'd say that about any film, but after watching It's Always Sunny in Philadelphia, I've become a fan. And, judging by his bespectacled appearances in the latest Pacific Rim trailer, he isn't too screechy.
Here's the video:
Add a comment
<<

Start

<

Prev

1

2 3 4 5 6 7 8 9 10 Next > End >>


Page 1 of 177