Blog
| | | |
| --- | --- | --- |
| Fast & Furious 6 sounds better in Japan | | |
Written by Ivan Radford
Friday, 17 May 2013 15:19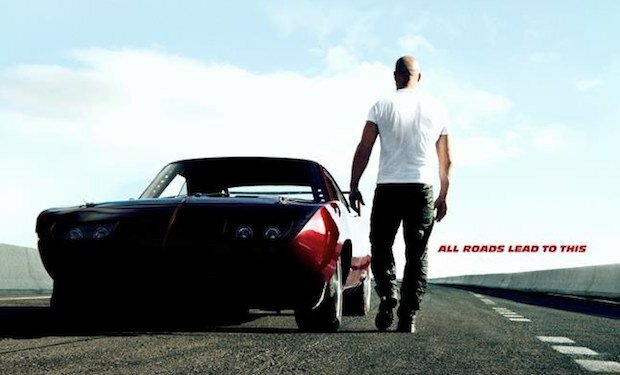 It's hard to have a favourite thing about Fast & Furious. Is it the dreadful dialogue? The sweaty hairless bromance between The Rock and Vin Diesel that sees them whaling on each other like two psychotic baked potatoes? The fact that you could rename the movies "Car vs Boat"? "Car vs Train"? "Car vs Tank"? "Car vs Plane"? The climax of Car vs Plane, which takes place on the world's first never-ending runway?
Nope, my new favourite thing about this truly dreadful franchise - and let's be clear about this: it is dreadful - is the fact that its quality is summed up beautifully by its titles.
I don't mean 2 Fast 2 Furious (the worst title of a sequel ever, rivaled only by Speed 2: Cruise Control), I mean what it's called in Japan, where, for some reason, the names on the poster oddly reflect the level of badness within.
What do they call Fast & Furious 6? Fast Six? Furious Six? No, in Japan they call it Wild Speed: Euro Mission.
Read more...
| | | |
| --- | --- | --- |
| Flowchart: Am I watching a good Matthew McConaughey film? | | |
Written by Ivan Radford
Monday, 13 May 2013 08:22
The warning signs are all there. The blonde hair. The topless torso. The charming smile grinning at you from every poster on the London Underground. Yes, a new Matthew McConaughey film is out in UK cinemas: Mud, directed by Jeff Nichols, the guy who made the superb Take Shelter.
Ever since the McConnaissance began a couple of years ago, the world has been introduced to something both wonderfully exciting and utterly baffling: the existence of good Matthew McConaughey films. Those impressed by the excellent actor's recent turns in Killer Joe or Magic Mike may well be tempted to catch up on his substantial career history. But as anyone who's seen How to Lose a Guy in 10 Days knows, it's a minefield out there - there are tons of bad McConaughey flicks and only a handful of great ones.
So, to help you in your dilemma of whether on not to see Mud (or any of his other films), we present you with our flowchart to answer that all-important question: am I watching a good Matthew McConaughey film?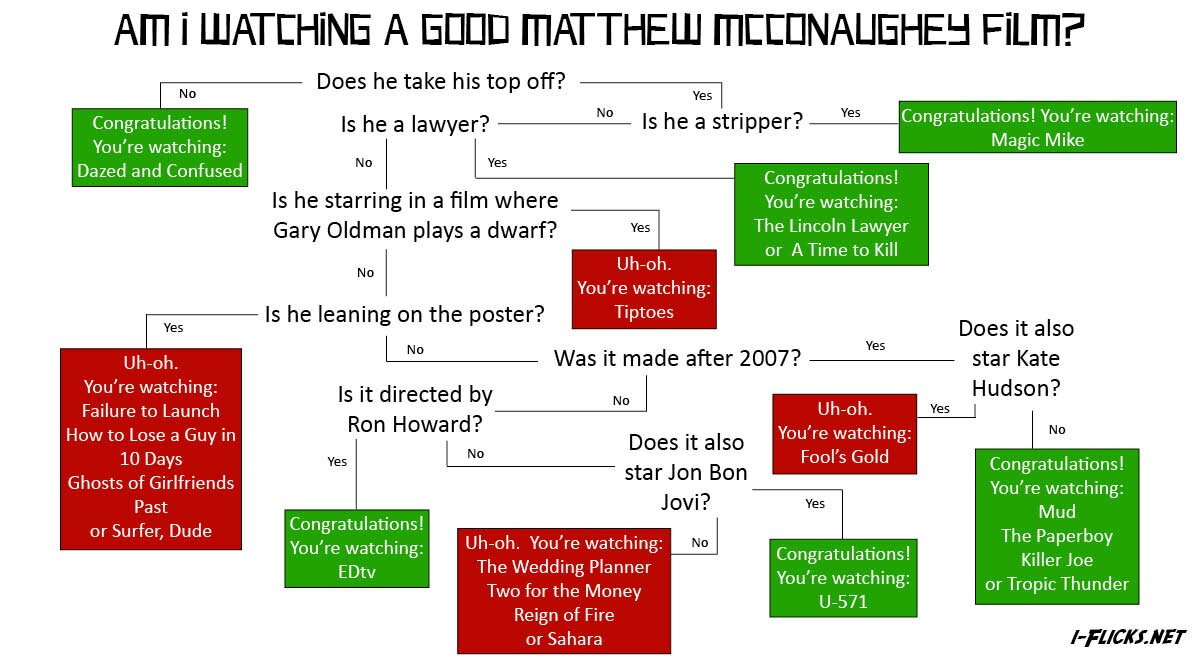 Print this chart off for future use - then go and see Mud right away.
Still not convinced? Read our Mud review from the Sundance London Film Festival.
Add a comment
| | | |
| --- | --- | --- |
| Warning: Gravity teaser trailer not suitable for people who like breathing | | |
Written by Ivan Radford
Friday, 10 May 2013 08:32
The teaser trailer for Alfonso Cuaron's Gravity has finally arrived and it's great - full of stunning pictures of earth, silence and George Clooney in a spacesuit.
Gravity is out in UK cinemas on Friday 18th October. Read on to watch the teaser trailer. Just one tiny warning: you may not be breathe for the next minute and a half.
Add a comment
| | | |
| --- | --- | --- |
| 7 possible reasons why Alice Eve takes her clothes off in Star Trek Into Darkness | | |
Written by Ivan Radford
Thursday, 09 May 2013 09:08
Star Trek Into Darkness is out in UK cinemas today and the Internet is already full of reviews desperate to avoid spoilers, lest they reveal a big plot hole or spoil one of the film's many references to older entries in the series. Likewise, there are no doubt countless sites where these same things are being debated and rationalised.
But one major plot point that hasn't been explained is Alice Eve's Dr. Carol, who in one scene strips down to her underwear. It's a moment that stuck out like a sore thumb in the trailer, which the marketing company tried to turn around by making it a source of a viral campaign. Now that's no longer the case, let's play a quick game of spot the unnecessary shot:
Why does this trained scientist suddenly have the urge to divest herself of all vestments? Here are seven possible reasons for Alice Eve taking her clothes off in Star Trek Into Darkness:
Add a comment
Read more...
| | | |
| --- | --- | --- |
| The World's End trailer - prepare for LAGERGEDDON | | |
Written by Ivan Radford
Wednesday, 08 May 2013 07:08
The World's End. This Is The End. 2013 is officially the year of the Apubcalypse. Stonernihilation. Slackertastrophe. Or, even more serious, Lagergeddon. And now we have our first glimpse of what Lagergeddon will look like thanks to the trailer for The World's End. The answer? It looks very funny.
What's that? Simon Pegg and NIck Frost in a video? Directed by Edgar Wright? With a really strong premise and some amusing gags? Shocking, I know.
More shocking, perhaps, is that Mark Heap is finally in their ensemble cast. The Spaced star missed both Hot Fuzz and Shaun of the Dead. His presence here only promises to make it even more, erm, promising.
So there you have it: Britain's Lagergeddon is now looking way more enjoyable than America's Lagergeddon. So if the earth starts quaking and supervolcanoes start erupting this summer, do the smart thing: stay in the UK and head to your nearest cinema for some Cornetto-flavoured end of days.
Here's The World's End trailer. It's out on Friday 19th July.
Add a comment
| | | |
| --- | --- | --- |
| 5 astonishing facts about the Village at the End of the World | | |
Written by Ivan Radford
Tuesday, 07 May 2013 22:25
Have you ever heard of Niaqornat? It's a tiny remote settlement at the very edge of Greenland. It's bleak. It's beautiful. You could almost say it's a village at the end of the world.
By an amazing coincidence, the village is the subject of Sarah Gavron's new documentary, The Village at the End of the World, which is out in cinemas this Friday. But that's not the most impressive thing about Niaqornat. To whit, here are five astonishing facts about the Village at the End of the World.
1. There are more dogs than people

Yep, that's right. There are only 54 people living in the village - fewer than the number of dogs in the area. With a human-to-animal ratio like that, Niaqornat is almost the canine equivalent of Jurassic Park. In fact, if the population falls below 50, the government will automatically step in and relocate them. Probably for their own safety.

The people, that is. Not the dogs.


2. There are only 15 houses

There are only 15 houses in the whole village. Manchester United have won more Premier League titles in their whole career than that.


3. The sewage system has a name

Ilannguaq. That's what the villagers call their sewage system. Because that's what their sewage system is: a guy who goes around with a bucket and collects all their shit and dumps it in the water. He's real popular with the ladies - but, statistically, he's even more popular with the dogs.


4. Average temperatures drop down to -20

You think you've had it bad this winter? Average temperatures in the village drop down to -20. Fahrenheit or Celcius? First one. Then t'other. It's so cold and dark they don't even have normal words like "winter" and "autumn". Their seasons are called Peuqqortinnerani, "the time of frost in the air", and Kaperlak, "the time of darkness".


5. It's 37km to the nearest airport

37km to the nearest airport in the town of Qaarsut? That's not so bad, you say. Try travelling 37km without a train network surrounded by dogs with a bucket of poo when it's -20 outside in THE TIME OF DARKNESS.


But the most astonishing fact of all about Niaqornat? All the people there are really happy. Optimistic, positive, proper smiley happy people. And that's what makes Sarah Gavron's documentary such a fascinating - and heartwarming - watch. I highly recommend it when it comes out on Friday.


Need more convincing? Read our Village at the End of the World review.

Add a comment
| | | |
| --- | --- | --- |
| Listen: Man of Steel soundtrack - Trailer music ("An Ideal Hope") | | |
Written by Ivan Radford
Tuesday, 07 May 2013 06:41
A few weeks back, I got rather excited by the Man of Steel trailer music, which gave us a glimpse of the Hans Zimmer soundtrack for the first time. Now, that backing score has been officially released on Soundcloud by Watertower Records. It's called An Ideal Hope and isn't listed on the album tracklist - a trailer-only composition? - but it's a better version than the one that was recently leaked on YouTube.
Starting off with that quiet piano that got me all in a fluster, it's a glorious wee number, full of rising perfect fifths rather than Zimmer's trademark minor third; a John Williams nod that pays tribute to the original Superman theme without ever using it. If the Man of Steel soundtrack turns out like this, my ears will be rather happy.
Have a listen:
Cheers to Den of Geek for the spot. Head over there to hear more of my regular soundtrack musings.
Add a comment
| | | |
| --- | --- | --- |
| The importance of seeing Ernest and Celestine - and 5 GIFs to prove it | | |
Written by Ivan Radford
Friday, 03 May 2013 09:08

All Stars. Chimpanzee. Iron Man 3. There are loads of posters telling you what to see this weekend, but there's one film that you should definitely take your kids to: Ernest et Célestine. Alternatively, just leave the kids at home and go yourself. Directed by Benjamin Renner, Vincent Patar and Stéphane Aubie, it's an adorable little animation about Ernest (a bear) and Celestine (a mouse), who become friends - much to the shock of wider society because, as we all know, bears and mice must never be friends.
A hand-drawn tale of friendship and rebellion, it's beautiful, funny and charmed the socks off me at the London Film Festival last year. It's one of those magical animations that impresses with craft as much as character. So why has it slipped quietly into London's Ciné Lumière this week with barely a squeak? I can't say. What I can say is that it's showing there until Wednesday 15th May (mostly at 11am), that it's a PG, that (like A Town Called Panic) little children will enjoy it even without understanding French - and that it's downright adorable.
To give you a taste of just how cute it is, here are five Ernest and Celestine GIFs that are made of pure loveliness...
Read more...
<<

Start

<

Prev

1

2 3 4 5 6 7 8 9 10 Next > End >>


Page 1 of 229