Star Ratings
| | |
| --- | --- |
| | Amazing |
| | Well good |
| | Fun |
| | Meh |
| | Rubbish |
| | | |
| --- | --- | --- |
| Glasgow Film Festival Review; Arbitrage | | |
Written by Ivan Radford
Monday, 18 February 2013 07:50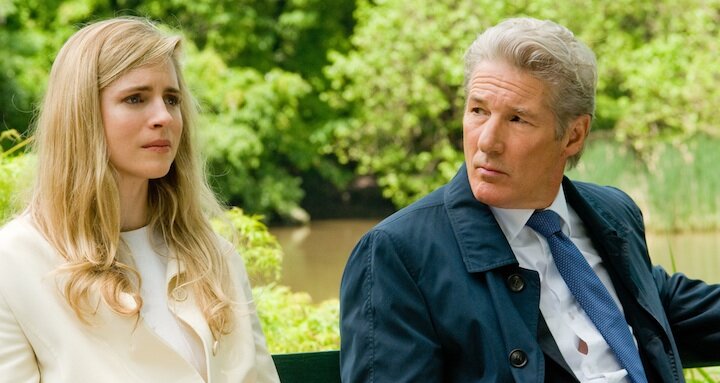 Director: Nicholas Jarecki
Cast: Richard Gere, Susan Sarandon, Brit Marling
Showtimes
Arbitrage. Is it a verb? Is it a noun? Apparently it's both. What does it mean? I have no idea. Even after watching this film, which uses that dull word for its title, I don't have a clue.
Richard Miller (Gere) is a rich man. A workaholic, he spends all of his time arbitraging - which, in his case, presumably means screwing around behind his wife's (Sarandon) back while his company goes bankrupt. But when his latest fling, an artist, gets killed in a car crash, Miller finds himself under scrutiny from the police - just at the point when he's committed fraud to hide his bad books. Probably by doing arbitrage.
Naturally, his financially-smart daughter (Marling) soon cottons on to the truth behind her father's facade. Caught between Tim Roth's determined cop and his own reputation, Miller's fortune's are suddenly reversed. Oh yes, he's well and truly arbitraged.
The question is: why should we care? Richard Gere is fantastic as the ruthless lead, pretending to pretend to care with smarmy class. But it's hard to return the sympathy as his empire starts to crumble.
Still, the rampant unlikeability of pretty much the whole cast is a minor dent in an otherwise admirable production. Jarecki's direction brings out a great turn from a conflicted Brit Marling, who holds her indie weight among the Hollywood big boys. Roth, meanwhile, gets the chance to prove that even the good guys have grey spots, spiralling what could have been a corny script into a believable world of ambiguity.
"I have to play the role of the patriarch!" shouts Miller, straightening his tie. That's the level on which Arbitrage works: a cool, detached examination of how an economic house of cards is held up, even when moral's gravity is tugging it to the ground. Do we want Miller to get caught? Do we want him to get away? Either way, the corporate wheels keep turning - a depressing truth that makes about as much sense as the title.