Star Ratings
| | |
| --- | --- |
| | Amazing |
| | Well good |
| | Fun |
| | Meh |
| | Rubbish |
| | | |
| --- | --- | --- |
| Raindance Film Review: Give Me the Banjo | | |
Written by Ivan Radford
Friday, 05 October 2012 15:59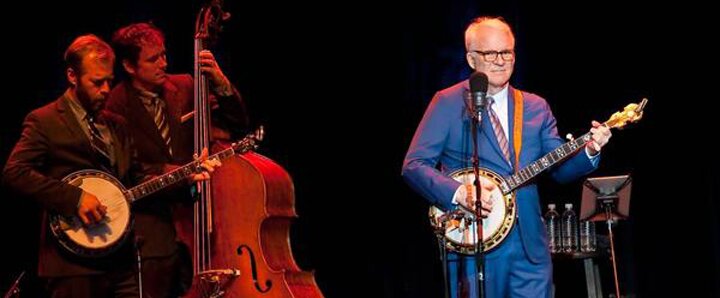 Director: Marc Fields
Cast: Steve Martin
Showtimes
"I think people are continually transfixed by the five string banjo... in some mysterious way."
That's Steve Martin, actor, writer, comedian and Emmy award-winning banjo player. He's the frontman for this documentary, which takes it title from a Mark Twain quote. Why would anyone ever cry out "Give me the banjo"? Because like the blues, the banjo has an interesting (i.e. extremely checkered) past.
"You could hear the darkies singing," begin a troupe of banjo players, as a parade of racism trots across the screen. Minstrels, old white folk, you name it. And Steve Martin embraces that politically dubious history, happy to accept it as part of the music he likes to play.
But it's not all gollies; there are guitar strings too. And what Give Me the Banjo does well is delve into the technical side of banjo playing without becoming too dry. "That's a left-hand pizzicato," says banjo legend Earl Scruggs, "or so my sister tells me. I call it pulling off!"
We also meet Charlie Poole, a hero of North Carolina. The kind of guy whose anecdotes are shared with children instead of nursery rhymes or fairy tales.
Things proceed from these mythical figures all the way to the modern day world of country and folk singing. Redneck women who strum while singing in Chinese. Men who adopt a more lyrical form of tune. Steve Martin himself.
"Welcome to the show!" he announces, smiling on stage. "We'd like to play... our first song!"
That trademark Martin humour is, of course, not found very often in this serious presentation. But his love shines through his animated voiceover, practically frothing at the mouth when he says "Gibson RB4 Mastertones".
Marc Fields' documentary is PBS-funded and it shows, but the sassy titles and clean presentation help keep the pace brusque. Of course, the main test for any educational film is whether it manages to convey its passion and knowledge without being dull: do those five strings transfix us in some mysterious way? Transfix is a strong word, but thanks to Give Me the Banjo's personable narrator and colourful contributors, they certainly keep your toes tapping.

Tags:
give me the banjo
steve martin