Star Ratings
| | |
| --- | --- |
| | Amazing |
| | Well good |
| | Fun |
| | Meh |
| | Rubbish |
| | | |
| --- | --- | --- |
| Raindance Film Review: Despite the Gods | | |
Written by Ivan Radford
Tuesday, 02 October 2012 15:25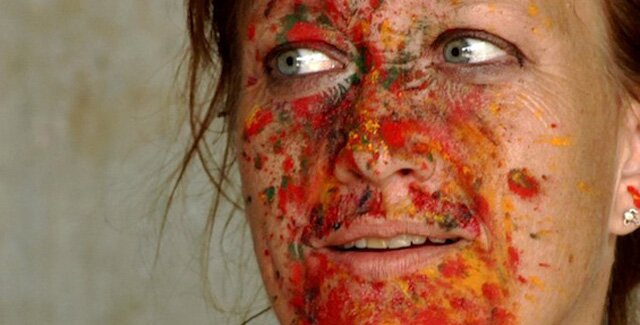 Director: Penny Vozniak
Cast: Jennifer Lynch
Showtimes
"It only takes one person to make pasta. It's nice to have people around while you make it. But if everybody wants to stir it at the same time? It's sort of a pasta clusterfuck."
That's Jennifer Lynch, controversial director and daughter of the equally provocative David Lynch. Ask any film critic and they'll tell you she's no ordinary woman. Her first film, Boxing Helena, was widely derided by the media, instantly winning her Worst Director at the Golden Raspberry Awards.
18 years later and that's still hanging over her head as tries to film her latest project, Hisss – the story of a woman who turns into a snake and back into a woman again.
"People called Boxing Helena torture porn," she vents in between scenes. "I wrote it when I was 19. Why would I write torture porn when I was 19?"
It's a tough shoot. In a foreign country, Jennifer is faced with different customs, know-it-all producers and hot temperatures. One scene, which involves extras being plastered in prosthetics, sees a woman black out for almost 8 minutes. And to top it all off, there's Jennifer's daughter to worry about.
The temptation is to refer to Penny Vozniak's behind-the-scenes documentary. And that's what it is. But Vozniak creates an intimate atmosphere on set, gaining Jennifer's trust enough to tease out the personal confessions. The access-all-areas footage, combined with that candid tone, turns the film into something far more moving. The usual on-set tensions are there, but they have an emotional payoff: we're not just observing Jennifer the filmmaker, trying to make a B-movie about a giant pneumatic snake with breasts; we're also cheering on Jennifer the single mother.
One tiny hiccup in the special effects department and production is prolonged for another two months – just like that, her kid's missed the start of school. If she had any sort of partner at home, she muses, she could do something about it.
Instead, she struggles on, juggling filthy humour with sweary rants. And every now and then, her daughter pops up and gives her a hug. It's an endearing look at one of cinema's enfant terribles – and a revealing insight into what it takes to be a female director in a male-driven industry.
At one point, Jennifer explains why she became interested in Hisss' bizarre tale of transformation: "I really liked the idea of a strong woman who just wasn't going to take any crap." Then she turns back into a snake and writhes across the set.
Ask any film critic and they'll tell you Jennifer Lynch is no ordinary woman. She's not. She's extraordinary. And Despite the Gods makes you love her for it.

Tags:
despite the gods
hisss
jennifer lynch
penny vozniak