Star Ratings
| | |
| --- | --- |
| | Amazing |
| | Well good |
| | Fun |
| | Meh |
| | Rubbish |
| | | |
| --- | --- | --- |
| Raindance Film Review: Trashed | | |
Written by Ivan Radford
Saturday, 29 September 2012 11:29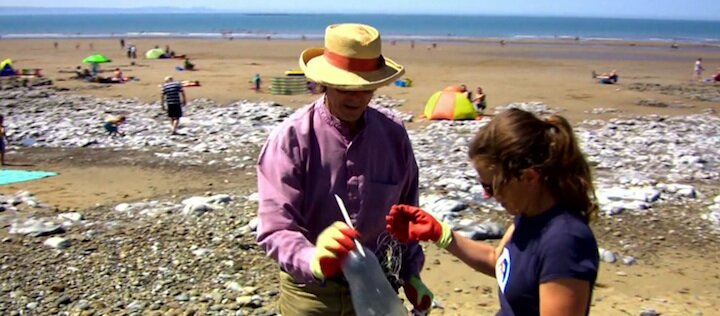 Director: Candida Brady
Cast: Jeremy Irons
Showtimes
200 billion. That's how many plastic bottles we threw away last year – a figure so huge it makes the number of disposable cups we dump look tiny. How many of those, you ask? 58 billion. It's no wonder, then, that after electric cars, polar ice caps and global warming, someone's finally made a documentary examining our rubbish. After all, it doesn't take Jeremy Irons to tell you how much waste can harm the world around us. But thanks to director Candida Brady, that's exactly what we get.
"From space, you can barely see any sign of human existence, the effect we've having on our planet…" begins Irons, hovering over the globe like a Bond villain with a giant space laser. Coupled by a truly rousing score from Vangelis – Van-flipping-gelis! – it's a strong start to a powerful documentary.
Once down on the ground, Jeremy's menacing air diminishes. He's a normal guy, bewildered by what people are doing to the earth. He strolls up and down the beach in a flat cap and cravat, posing questions with a charming frankness.
"Good afternoon, I'm Jeremy," he says to a farmer in Iceland, before uttering the best line of his career: "I was wondering if we could take a look at your cows?"
What we learn is that this dairy farmer's herd has been tainted by dioxins – chemicals given off by the burning of waste. Now, his milk is poisoned, unusable. He can't feed it to his children. He can't sell it for money. He can't do anything about the giant incinerators nearby – if the problem were contagious, he muses, the government would have taken action. As it's pollution, they chuck lawyers in the way and do nothing.
It's this immediacy that Candida Brady harnesses to good effect, picking relatable human subjects and using Vangelis' music to drive the pace forward. Shocking stories keep piling up as stats and figures are dissected with stylish animations, while Irons keeps everything easy to digest. And then, while your brain is still reeling from 62-metre high landfills and airborne toxins, Brady dips her head underwater, revealing a whole new world of trash. A literal sea of plastic.
"I think we are reaching a tipping point," Irons says at one point. 2012 certainly seems to be a year where filmmakers are openly tackling the environment. Chasing Ice did it through stunning photography. The Island President used political struggle. The Revenge of the Electric Car celebrated science and technology. Trashed does it by revealing the true extent of an everyday habit that's taken for granted: one shot of what someone finds in a sea lion's stomach is really, well, stomach-churning.
Is the success of a green film determined by whether it entertains, informs or inspires you to change your ways? By showing us individuals around the globe already changing their lifestyles to make a difference, Trashed does all three. It's an urgent call to arms that inspires without ever lecturing. After 90 minutes, you'll never want to touch a plastic bag again. Maybe Jeremy Irons doesn't need that giant space laser after all.

Trashed trailer 
Tags:
candida brady
environment
trashed
vangelis