Star Ratings
| | |
| --- | --- |
| | Amazing |
| | Well good |
| | Fun |
| | Meh |
| | Rubbish |
| | | |
| --- | --- | --- |
| Raindance Film Review: Wild in the Streets | | |
Written by Ivan Radford
Friday, 28 September 2012 15:46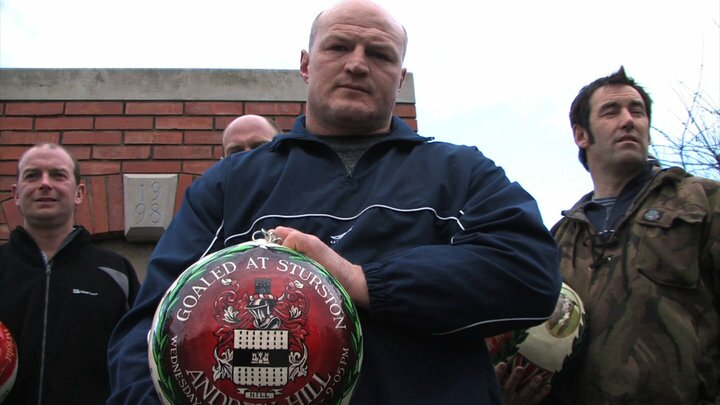 Director: Peter Baxter
Cast: Sean Bean
Showtimes
Let's face it. Shrove Tuesday means one thing: pancakes. 24 hours of fluffy, syrupy goodness. But not in Ashbourne. For that quiet Derbyshire village, Shrove Tuesday means something else entirely: 48 hours of running around with a cow stomach stuffed with cork shavings. They don't even put syrup on it.
Welcome to Shrovetide, an annual ball game that spans 3 miles. The players? Everyone. The game length? 2 days. The pitch? The entire village. It's muddy, chaotic and makes football look like tiddlywinks. No wonder Peter Baxter loves it.
He loves it so much, in fact, that he made Wild in the Streets, a documentary tracking Shrovetide's history all the way back to its ancient roots. And he got Sean Bean to narrate.
"Pagan festivities worshipped the Sun and featured the custom of sacrificing a virgin and using 'er 'ead as a football," begins Sean Bean (you've not lived until you've heard Boromir say that line). Since then, the game has evolved (but not too much - they don't use virgin's heads) into what basically amounts to a giant scrum. Even the schoolteachers join in.
But one does not simply walk into a Shrovetide team. You're raised in one.
"Those born north the river are Up'ards," explains one local - a villager so authentic that he's given subtitles. South of the river? You're a Down'ard.
Baxter takes his crew and treks around the town, threading together the divide that cuts through even the closest of families. One brother defected from the Down'ards to the Up'ards, we soon learn - still a source of major local scandal.
"He should've stuck with his original game!" laughs local Reverend Bev. But you can see it in her eyes: she's deadly serious.
It's that human interest combined with historical factoids - Prince Charles kicked off the tournament in 2003 - that engages you throughout this amiable documentary, even if you don't care about sport. And by the time Baxter's joined in the skirmish with handheld cameras, you'll be hooked.
"It's going to be quite nasty and quite violent this year," says one gruff player. "And that's the way I like it."
It's hard not to agree with him. And for 90 fleeting feel-good minutes, you forget all about pancakes.

Tags:
sean bean
wild in the streets