Star Ratings
| | |
| --- | --- |
| | Amazing |
| | Well good |
| | Fun |
| | Meh |
| | Rubbish |
| | | |
| --- | --- | --- |
| Raindance film review: Love / Me / Do | | |
Written by Ivan Radford
Saturday, 26 September 2015 16:39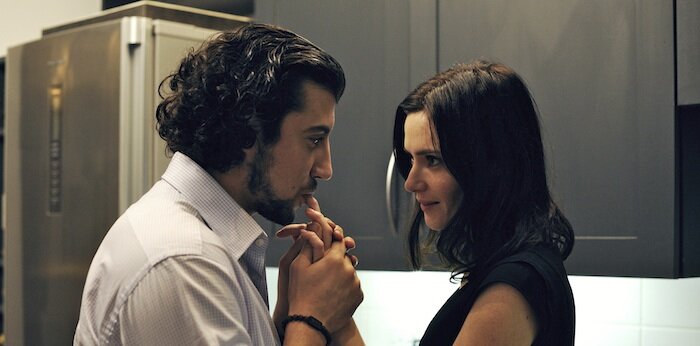 Martin Stitt
Cast: Jack Gordon, Rebecca Calder Certificate: 15
Showtimes: 21.00, 26th / 21.15, 29th
If the lyrics of The Beatles skip through your head as you sit down to watch Love Me Do, you're not alone. The classic song, which pledges both truth and passion, is a simple plea for union distilled into three words. When they appear on the screen in Martin Stitt's film, they're divided by diagonal lines. Love looks detached. Me appears isolated. And the verb on the end feels more emphatic than ever.
The movie follows a decidedly odd couple. Antonia is an investment banker with a hard nose and singular focus. Max, on the other hand, is an out-of-work actor, at the opposite end of the financial spectrum. She's gunning for someone else's job; he's still waiting for his break. It's hardly a natural match. But hook up they do in a bond that proves mutually beneficial and destructive, each of them a trophy for the other's arm, plus the means to reach an end.
Essentially a two-hander, the cast are magnetic to watch. Jack Gordon is suitably chameleonic as the actor, believably intense, even if his sudden (and extreme) loyalty is hard to swallow. Rebecca Calder, meanwhile, is blistering as the determined career lady; you can't take your eyes off her.
The pair wind around each other with fierce conviction, but that class gap slowly eats away at them. The couple find themselves questioning their own ambitions - and their resolve to achieve them. What will they for themselves and, as darker desires come to the surface, what will they do for their partner? That pressure to succeed stems not just from the characters, but the city they live in; the insidious rat race of London is captured by Stitt (making his feature debut) with an impressive claustrophobia, one that is channeled by the white-walled home of Antonia. Exactly the kind of place successful people live, be that success economic or creative, the importance of surface appearance is echoed by Max's profession - everything is a performance, to some extent. The result is a intriguing study of a relationship where self is as important as passion. It's not always about whether you love someone; it's about what you do.