Star Ratings
| | |
| --- | --- |
| | Amazing |
| | Well good |
| | Fun |
| | Meh |
| | Rubbish |
| | | |
| --- | --- | --- |
| LFF review: Son of Saul | | |
Written by Ivan Radford
Sunday, 11 October 2015 11:19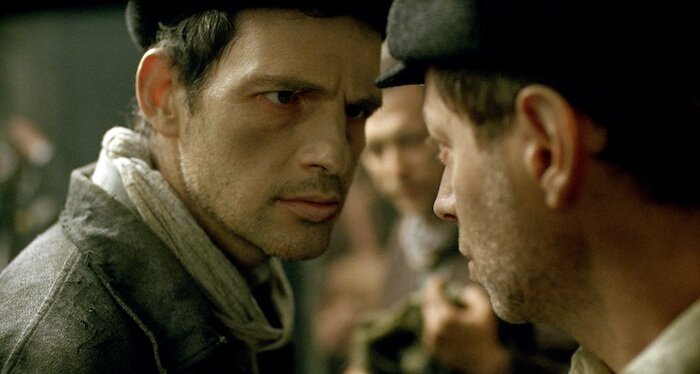 Director: László Nemes
Cast: Géza Röhrig, Levente Molnár, Urs Rechn
Showtimes: 20.45 10th / 21.15 10th / 13.00 11th
Son of Saul, a film that depicts the day-to-day survival of a man in Auschwitz-Birkenau, is not an easy movie to watch. It's an even harder movie to hear.
Director László Nemes - astonishingly, making his feature film debut - has crafted a shocking piece of cinema, which brings concentration camps to life in a new way. They have appeared on screen before many times, from the black and white of Schindler's List to, most recently, the vampire horror TV series The Strain, but never with such alarming immediacy.
The film follows Saul, a Hungarian who holds the post of Sonderkommando, which involves the handling of everyday exterminations. But when he recognises a boy in the gas chamber, Saul decides to give him a proper burial - and so he tries to find a Rabbi to recite the correct prayers.
Whether or not the boy is his son is never clear, but the quest consumes Saul, a futile, yet all-encompassing attempt to retain some semblance of humanity and dignity in a place where numbered people have neither - one of the first things prisoners ask each other is what country they're from. Géza Röhrig is fantastic in the lead, his fixed, hardened frown conveying a surprising amount of emotion, as he annoys fellow prisoners with his inability to join in their escape plan. Saul is stoic, but movingly so; a last remnant of tradition rattling around inside a relentless machine.
Nemes' camera follows him through his tasks, from piling up bodies to shovelling ashes, almost always one step behind - a long-take approach that recalls the immersive power of Children of Men. The over-the-shoulder perspective, though, perhaps most resembles a video game, positioning Saul in a never-ending universe of increasingly horrible obstacles; no matter what task he completes, there is something harder to come.
If the onslaught inspires dismay, though, what is terrifying is how quickly you get used to it. The restricted POV leaves the nastiest things to occur off-screen; you don't see the atrocities of war, but you listen to them all. Screams, footsteps, fire, guns. That gruelling reality is Son of Sauls' grim achievement: capturing the sound of the Holocaust. As Saul soldiers on, his numb resilience rubs off on us, rendering the genocide as a constant background thrum. Every now and then, the deafening horror of it all breaks though.