Star Ratings
| | |
| --- | --- |
| | Amazing |
| | Well good |
| | Fun |
| | Meh |
| | Rubbish |
| | | |
| --- | --- | --- |
| LFF film review: The Satellite Girl and Milk Cow | | |
Written by Ivan Radford
Sunday, 19 October 2014 06:24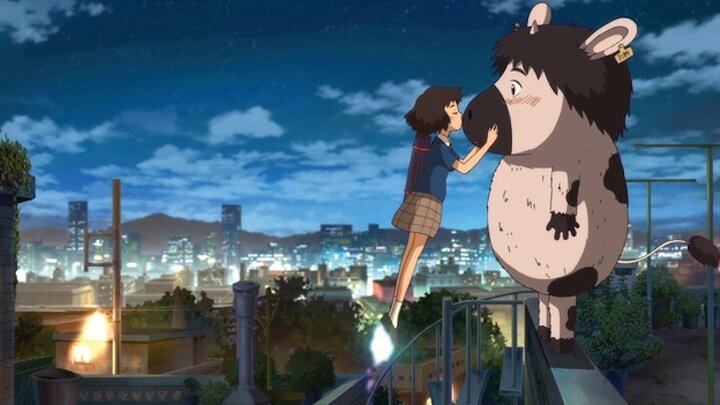 Director: Hyung-yun Chang
Cast: Yoo Ah-in, Jung Yu-mi
Showtimes: Oct 18th, Oct 19th
"My name is KIT-SAN1. I weight 46.8kg. I am a satellite."
That's KIT-SAN1, a talking satellite. Her mission? To observe Earth. But one day, she crashes down to the ground, a tumble that turns her into a human girl (Il-ho) - with detachable rocket arms. Soon, she meets a singing milk cow, who used to be a singer called Kyung-chun - but transformed after a girl dumped him, breaking his heart.
Stop me if this getting too weird.
So far, it's all par for the course for this South Korean animation, whose name (The Satellite Girl and the Milk Cow) prepares you for the frankly bonkers premise. No sooner than Kyung-chun swaps his human skin for fur, though, the Milk Cow finds himself hunted by The Incinerator, an evil machine that hunts broken hearts and devours their internal organs.
Not weird enough yet?
The cow is helped by Merlin the wizard, who introduces him to Il-ho. And is disguised as loo roll.
If you're still reading, then The Satellite Girl and the Milk Cow (Uribyeol ilhowa ulrookso) is for you. Director Hyung-yun Chang's no stranger to strange (he previously made a short called A Coffee Vending Machine and Its Sword) and the filmmaker seizes his first feature-length stage with an impressive ambition: ideas literally fly across the screen, whether they're bog rolls, robots or even pianos. Meanwhile, our cow finds himself a man suit to hide in, zipping in and out of the fake skin like something from a kids' David Lynch film.
But Chang has an eye for emotion too, which keeps his surreal adventure on solid ground.
"Don't you know what happened to me because of you?" cries Kyung-chun at the love of his life. "I turned into a milk cow!"
That hilarious juxtaposition of earnest heart and out-there head makes for a constantly surprising - and funny - adventure, which recalls the whimsy and creativity of Studio Ghibli. At times, it recalls them a little too much; one scene sees a witch send pig snouts searching through a house for Merlin, while the resolution, as with similarly-magic-themed Howl's Moving Castle, feels far too simple.
But if the background drawings do not always live up to the standards of Japan's best, the country's neighbour still finds more than enough to prove its own animated mettle. Growing from a bizarre fantasy to an 80-minute meditation on love and the nature of humanity, The Satellite Girl and the Milk Cow is a bizarre delight to behold, whether you're seven years old or seventy. "You're just not my type," says the milk cow, at one point. "You're a satellite." Sometimes, all it takes to make the it's-what's-on-the-inside-that-counts message new is a singing milk cow and talking satellite. And a wizard shaped like toilet roll. What a charming space oddity this is.