Star Ratings
| | |
| --- | --- |
| | Amazing |
| | Well good |
| | Fun |
| | Meh |
| | Rubbish |
| | | |
| --- | --- | --- |
| LFF film review: Night Bus | | |
Written by Ivan Radford
Sunday, 19 October 2014 00:02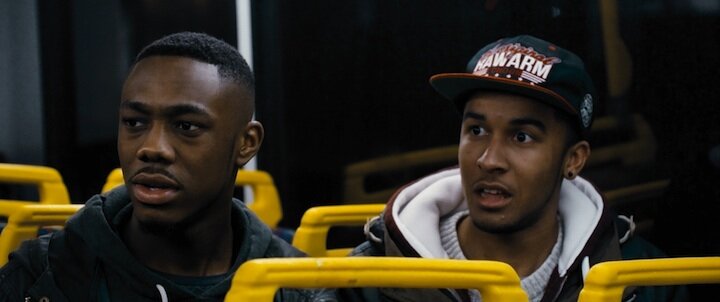 Director: Simon Baker
Showtimes: Oct 18th
They say that you should always write about what you know. Debut director and writer Simon Baker, then, must catch a lot of buses.
It's not hard to see where the inspiration for Night Bus came from: you can witness a surprising amount in a single journey, be it serious or silly. Baker takes advantage of that to create a fly-on-the-wall-style drama based around an evening on an East London route.
We see people from all walks of life, from students or a middle-class couple bickering after a cultural night out to addicts and a jealous boyfriend complaining about his girlfriend's behaviour in a club. But while overhearing conversations is common on public transport, Baker understands that the most interesting moments occur when these strangers interact.
Highlights include a drunk girl bickering with a pair of rap fans about utter nonsense and, on a bizarrely tragic note, a guy going to extraordinarily lengths to get a woman's phone number - without her even realising. Every time someone gets on board, you wonder whether they will talk to anyone else, and how that will affect each of them; a bizarre meta-tension as stories wait to be told.
Shot over a week on a bus in East London, the cast are given room to improvise their dialogue, adding a natural sheen to proceedings that feels closer to documentary than drama. That realism gives this a universal appeal beyond London travellers, ironically backed up by the genuine location, which is used to superb effect, cutting between seats and rows so that familiar faces go from centre stage to the background, where their lives silently continue.
Perhaps inevitably, some moments do not always pay off - fare dodgers and one boy who just wants to talk attempt to develop the character of the bus driver (Wayne Goddard), but to limited success. You wonder what it would be like if Baker were given a budget and a six-episode TV series to really explore the range and depth of these disconnected stories. Nonetheless, the meandering narrative is a fitting approach for the confined context, as the movie winds its way to a gentle stop, accompanied by DoP Dominic Bartels's sedate visuals and the moody music. An improvised, original low-budget flick with heart, humour and a host of colourful characters? It's all in a night's bus ride for this movie.