Star Ratings
| | |
| --- | --- |
| | Amazing |
| | Well good |
| | Fun |
| | Meh |
| | Rubbish |
| | | |
| --- | --- | --- |
| LFF film review: Leviathan | | |
Written by Ivan Radford
Friday, 17 October 2014 11:12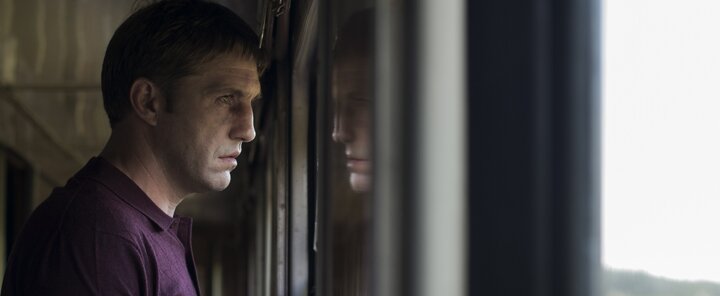 When it comes to opening shots, none set the tone quite like Leviathan's: a deliberately slow zoom in on a court official reading aloud the history of a case. Hearing after hearing. Appeal after appeal. Every time you think she'll stop, she keeps on going.
The matter in hand? The property and land of Kolya (Alexey Serebryakov), who lives on the fishing coast of Russia with his son, Roma (Sergey Pokhodaev), and second wife Lilya (Elena Lyadova). But one day, the local mayor decides he wants to seize it so that he can build a luxury leisure complex on the site: an opulent service for the higher-ups in society, literally trampling over those at the bottom. And so Kolya asks an old friend to help: Dmitri (Vladimir Vdovitchenkov), a lawyer from Moscow.
Director Andrey Zvyagintsev shoots their legal battle against this gigantic sea monster at a snail's crawl, his script (co-written with Oleg Negin) taking time to explore the characters on both sides of the wave. On the crest of power sits the hilariously repulsive Sergey Pokhodaev, who totters about making demands during the day and, at night, quizzes a priest for reassurance. Not for his soul, but for the security of his social status.
On the underside of the flood is our poor protagonist, a tiny figure drowning in a gigantic, widescreen landscape. Alexey Serebryakov's downtrodden yet resilient man, supported by Vdovitchenkov's suitably suave lawyer, finds himself caught in a situation where everyone wants something belonging to someone else, be it women, land, money or power. And so, fuelled by vodka, he tries to stay afloat.
The agonisingly deliberate pacing of this never-ending struggle keeps you emotionally detached from events, but the director isn't afraid to find the humour in the grimly insurmountable odds - we spend time with the family on a day out, where their idea of a fun is shooting photos of past leaders with machine guns, and chortle disgustingly at the walrus-like mayor.
There is grit in the water: it is telling that Kolya's only hope of success is to blackmail the mayor into leaving his home alone, forced to sink beneath the calm waters to soak in the current of corruption. A lengthy sermon, meanwhile, sees the country's rich and powerful lectured on the importance of God's truth - "Listen," whispers our mayor to his boy, "God sees everything" - before driving away in a cavalcade of shiny cars.
For all the salty bite this satire spits, though, the title apparently refers to the text Leviathan by Hobbes, who wrote that rule by an absolute sovereign is necessary for society to function. What happens when that sovereign starts taking from others? That opening shot of legal mumbo-jumbo gives us the cruel, inevitable answer: it is endless, useless and utterly meaningless.