| | | |
| --- | --- | --- |
| Film review: Black Mass | | |
Written by Ivan Radford
Wednesday, 25 November 2015 18:10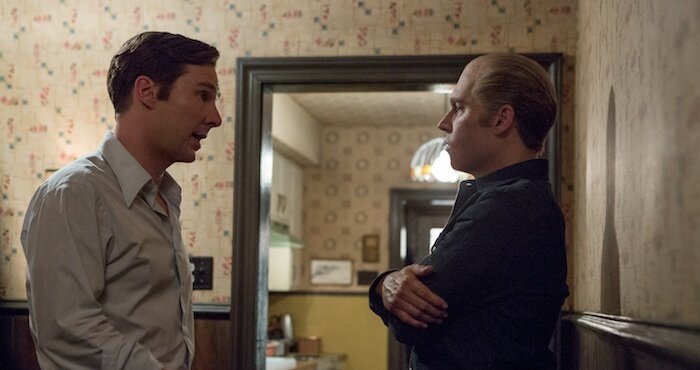 Director: Scott Cooper
Cast: Johnny Depp, Joel Edgerton
Certificate: 15
Who doesn't love a heavy-hitting drama? Scott Cooper clearly does, switching from Crazy Heart to this Boston tale of corruption. His folk flick featured fantastic acting from Jeff Bridges and Colin Farrell and here, he draws two similarly gripping turns from Johnny Depp and Joel Edgerton.
Depp plays notorious gangster Jimmy "Whitey" Bulger, a part that could seem similar to his role in Public Enemies, were it not for Depp's transformed appearance. Looking more like a vampiric Christopher Walken than a drug dealer, he sports his slicked hair and blue contacts with a chilling stare that speaks volumes about Bulger's ruthlessness. Edgerton, meanwhile, proves himself one of the best character actors around with another generous performance as John Connolly, an FBI agent who works with Bulger to bring down the Mafia - only to unwittingly strengthen his boyhood friend's grip on the local crime scene.
Edgerton's is the more interesting character - his increasingly gelled hair visibly rising as his moral integrity sinks - but Cooper's film doesn't seem to realise it: Bulger, true to form, steals the thing from under Connolly's feet. The result is a unfocused landscape of low-lives, as the uneven script can't quite decide which male to make the alpha.
In lesser hands, this could prove fatal, but Black Mass remains engrossing on the sheer merits of its cast alone, let alone the polished work elsewhere. Each actor's role is well performed: one scene at a dinner table, in which an FBI agent is grilled about his family's secret recipe, is nail-biting yet hilarious. Even Benedict Cumberbatch, who is unnecessarily hired to play Jimmy's political brother, Billy, brings clout to his bit part. Stitched together with superb editing, from title years and ominous voice-over testimonies to beautiful crossover fades that see cars driving on rivers and cities filling up faces, Black Mass ultimately loses weight by being over-stuffed - but if it can't choose between its leads, that only emphasises the similarities between them: crime isn't just limited to the famous names on the Most Wanted list. This is a saga with impressive heft.