Star Ratings
| | |
| --- | --- |
| | Amazing |
| | Well good |
| | Fun |
| | Meh |
| | Rubbish |
| | | |
| --- | --- | --- |
| Film review: The Martian | | |
Written by Ivan Radford
Friday, 02 October 2015 05:36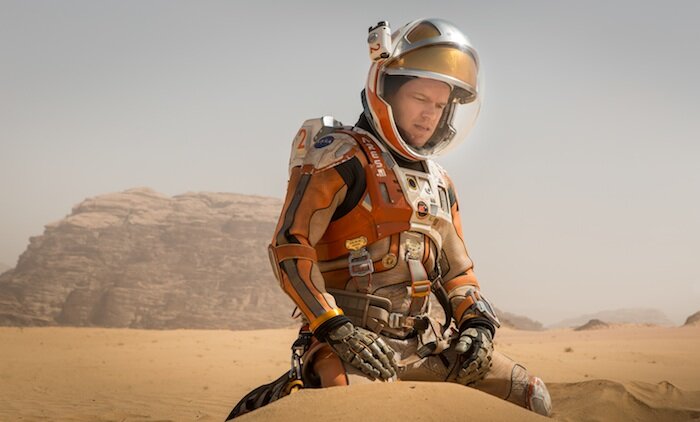 Director: Ridley Scott
Cast: Matt Damon, Jessica Chastain, Michael Peña, Kate Mara, Aksel Hennie
Certificate: 12A
"I'm going to science the shit out of this," decides Mark Watney (Damon) near the start of The Martian, after the astronaut finds himself stranded on Mars.
It's a simple motto, but that's the secret to both Mark's potential survival and the movie's success: it reduces space travel down to a string of problems that need to be solved. No water? Fine. How do you make it? No food? Ok. How do you grow some? The formula begins even before Mark's isolation, as the rest of the crew of shuttle Ares 3 face a more essential conundrum: with a severe storm hitting their base, should they evacuate without the missing Watney and survive, or wait to find him and possibly all die?
It's a tough call for Commander Lewis (Chastain) and co (Mara, Peña, Hennie), but it's over and done with in 10 minutes, because Drew Goddard's script knows that there are more challenges still to come. What follows is a series of theoretical and practical exercises, each one seemingly dry on paper but thrillingly urgent on-screen, where they mean the difference between life and death. It's like watching the final act of Apollo 13 remade into an entire film.
That unique mindset grounds everything: because we're focused on the basic challenges of day-to-day existence, our brains don't question that this is all taking place on an alien planet; the stunning scarlet landscapes (shot with unfussy style by Ridley Scott) are second to the mathematical athletics on display; the prospect of space travel is nothing compared to the mind-bending number of disco tunes in the possession of Chastain's guilt-ridden leader - if there's one thing Blade Runner was missing, it's Abba.
The downplayed mood extends to Damon too, who uses his everyman charm to narrate events with a surprising amount of humour. He doesn't make grand speeches or weep into his helmet; he makes fun of himself in video diaries and swears at NASA via text.
On Earth, people are just as flummoxed by Watney's situation. Sean Bean is enjoyably gruff as the veteran in charge of the crew, Chiwetel Ejiofor is composed as the boffin overseeing the mission and Jeff Daniels avoids being painted as the bad guy as his NASA chief tries to avoid any bad PR. In fact, there isn't really a villain at all: cutting between the people in the control room and the person on Mars, Scott and Goddard craft a tale that presents space exploration as one huge team endeavour. There's no difference between people in China, the US or even in space: they're all just clever humans solving problems. Isn't being smart cool?
From Damon's passion for homegrown potatoes to Halt and Catch Fire's superb Mackenzie Davis as an enthusiastic control room assistant, it's hard to think of another sci-fi with as much emphasis on the science. More than the flawless visuals, nuanced performances and consistent laughs - watch out for one cheeky movie reference - it's a treat to see a big budget blockbuster that celebrates intelligence over explosions. The Martian is essentially one long, two-hour equation. And it cinemas the shit out of it.