Star Ratings
| | |
| --- | --- |
| | Amazing |
| | Well good |
| | Fun |
| | Meh |
| | Rubbish |
| | | |
| --- | --- | --- |
| Film review: Blind | | |
Written by Ivan Radford
Friday, 27 March 2015 08:03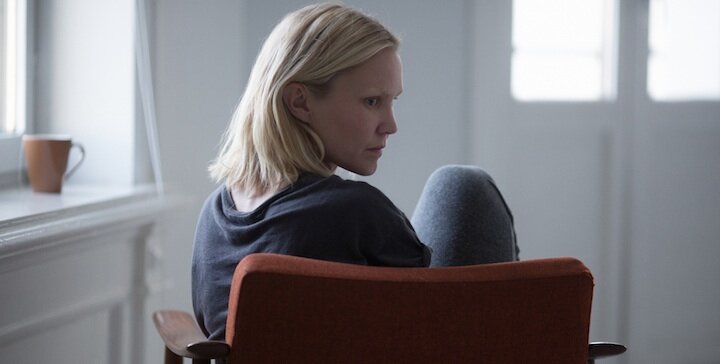 Director: Eskil Vog
Cast: Ellen Dorrit Petersen
Certificate: 18
Perception is everything. When Ingrid (Ellen Dorrit Petersen) loses her sight, it changes the way she sees things, from her apartment and her relationship with her husband to that strange-looking guy sitting on the bus.
She spends her days alone in the apartment, writing on her laptop. Or does she? Creaking floorboards make her suspect that her husband is actually loitering in their flat, quietly observing her behaviour. So she starts knocking things over near his chair, groping for his feet or legs.
Director Eskil Vogt is in her element in moments like these, which toy with how she - and, more importantly, we - see her story. The film cuts repeatedly between what is and what isn't there, leaving us unsure of what's real and what's imagined. When Ingrid later covers her eyes, only to cause the screen to black out, her seeming control over the narration has an arresting physical impact, but it carries an emotional weight too: one of the movie's most devastating scenes sees her lying in bed while her husband replies to emails on his laptop. Or is he secretly instant messaging the cute, bumbling girl who lives across the road?
That juxtaposition of what she can see and what she can only picture in her head becomes increasingly erratic and prominent - but only serves to bind us closer to her blindness. When she receives a private text on a bus, only for her assistive phone to read it aloud, we laugh at the embarrassment of other passengers, but cringe on the inside; a tightrope of sadness and laughter that we teeter along. The script's meta-narrative becomes smarter and more involving, as sub-plots collide and contradict, revealing desires and concerns in Ingrid, whose outwardly stern appearance is played impeccably by Petersen. The rest of the ensemble follow suit, acting out roles that feel absolutely real, from a tenderly observed mother whose friends have all left to a pony-tailed loner with a porn problem.
What emerges out of this precise jumble of stories is a moving and endlessly surprising tale of love, loneliness and creativity; a film that deprives its audience of senses and sense, but never of feeling. Magnificent.