Star Ratings
| | |
| --- | --- |
| | Amazing |
| | Well good |
| | Fun |
| | Meh |
| | Rubbish |
| | | |
| --- | --- | --- |
| Film review: The Tale of the Princess Kaguya | | |
Written by Ivan Radford
Saturday, 21 March 2015 16:57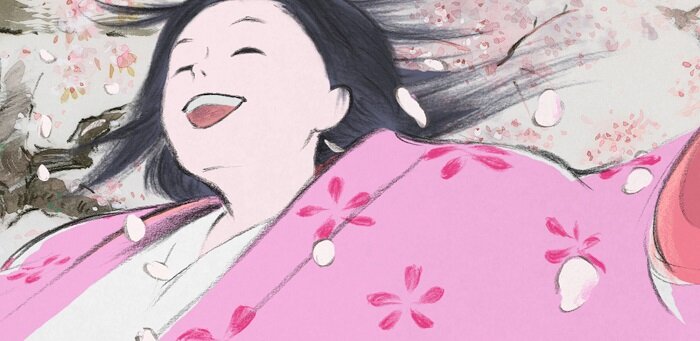 Director: Isao Takahata
Cast: Chloë Grace Moretz, James Caan, Mary Steenburgen
Certificate: PG
One of the best things about Studio Ghibli has always been its use of female protagonists - not just telling stories about them, but understanding them as people. The title of their latest, then, could cause some concern among fans: it sounds like the name of a Disney film. The Tale of the Princess Kaguya, though, is anything but.
We first meet the princess when she appears in a glowing piece of bamboo in the forest. To her adopted dad, she's a gift from the heavens. Sure enough, she begins to grow, far more rapidly than a normal human, much to the wonder of the old man and his wife. When money appears in another shoot of bamboo, he becomes convinced that she should move to the city and be raised as a royal. That paternal expectation is engrained right in the title: Kaguya's not just a princess, she's The princess.
Kaguya, though, is happy to play in the muddy woods with country kids. They call her "Takenoko" ("little bamboo") and run around singing folk songs. There's a simple joy to the happiness on display, one that's captured by director Isao Takahata with a hand-drawn beauty that recalls both a kids' story book and an ancient scroll; an unmistakably Ghibli take on traditional Japanese lore.
When she's whisked away to the nearby town, her parents expect her to rejoice in their social ascension, as any old-school Disney female would. After her initial joy at the lavish silk garments on offer, though, she rallies against the trimmings and trappings of convention - much to the displeasure of her delightfully haughty etiquette tutor. What could be the story of a girl dreaming of her prince charming evolves into a study of female identity in the face of patriarchal control; a rousing punch against the princess cliches Western cinema has fed us for years.
When a train of suitors turn up, each treating her as an object to be won, she flees in frustration - a sequence that derails her whole narrative, as everything is swept aside by an angry smudge of blurred, black ink. It's a breathtakingly literal display of emotion, of nature overpowering earthly status - and a reminder of just how powerful a paintbrush in the right hands can be.
The tactile, papery frames only become more stunning, as entire realms descend from the clouds, arrows transform into flowers and, all the while, woodland bugs chirp in the background. The environment echoes in the music, too, as Kaguya gazes out over the rural landscape, reciting half-forgotten songs that she somehow knows. The lyrics speak of birth, death and nature, a cycle of time and acceptance that elevates the basic plot into a meditation on the transient nature of life.
The result is a coming-of-age tale with a bittersweet maturity that complements its childlike imagination. People grow up, animation studios shut their doors, and the people left behind must move on. Treasuring moments while they last is what matters. Takahata's film takes too long to linger on the details (the runtime is a slow 137 minutes), but from the adorable sequences of a baby toddling into a garden to a romance that leaves us soaring over the planet, how thrilling that one of Ghibli's final films should do just that.