Star Ratings
| | |
| --- | --- |
| | Amazing |
| | Well good |
| | Fun |
| | Meh |
| | Rubbish |
| | | |
| --- | --- | --- |
| Film review: Chimpanzee | | |
Written by Ivan Radford
Friday, 03 May 2013 10:51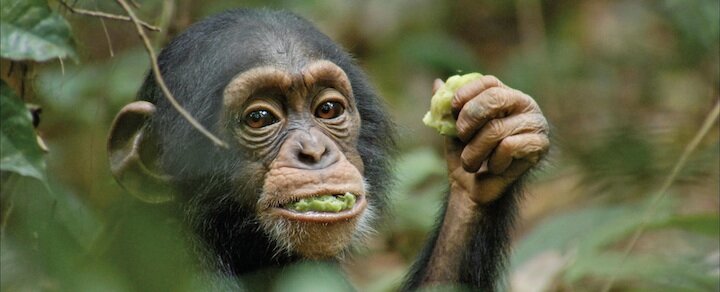 Directors: Alastair Fothergill, Mark Linfield
Cast: Oscar, Tim Allen
Certificate: U
Trailer
Meet Oscar. Oscar's a chimpanzee. He spends his day keeping up with the group and trying to crack open nuts with a rock. It's tough work. But he's a happy chimp. Awww.
Meet Disney. They may be a corporate identity but they love nothing more than attributing human emotions to non-human creatures and objects. It's tough work. But they're a happy company. Awww.
Meet Tim Allen. Tim's an actor. He narrates Disney's film, giving thoughts and feelings to the things in the jungle. He frequently says things like "Oscar needs to try harder" or "Easy grandpa". He's funny. Good old Tim.
Tim is hired by Alastair Fothergill and Mark Linfield. They're directors. They walk around the forest with cameras trying to take pictures of the animals. Alastair and Mark worked together on BBC's Planet Earth and Frozen Planet. That means they have a special bond. Sometimes, they eat food together. Alastair and Mark are good friends. Awww.
But their friendship is put to the test in Chimpanzee, with trees, animals and (don't forget) the chimpanzees making it hard to capture something impressive on tape. Can they do it? Yes. They can. Hooray!
Alastair and Mark hang cameras from ropes between the trees, slinging them through the foliage to create some spellbinding sequences. Their audience is stunned. Alastair and Mark are happy directors. Awww.
Oscar takes up most of their time. He's unpredictable and full of energy. It's a hard job keeping up with their young hero. The little scamp! But Oscar finds himself alone when his mum dies. Poor Oscar! Alastair and Mark play sad music. The audience thinks of Bambi. Poor audience.
Disney are good at telling tales. They try hard to add emotion to everything. They even show us scary moments when the family is under attack. They play angry music and show us Oscar in danger. Then, just to make sure, they get Tim to tell us Oscar is in danger as well. It's all because of that other rival chimp from the other side of the woods. He's called Scar, so we know he's bad. Nasty Scar. Boo.
But despite Disney's efforts to invent a narrative, Alastair and Mark manage to find a heartwarming story of adoption that is too sincere to be manufactured. Well done, Alastair and Mark. All that eating food together paid off.
Meet David Attenborough. He's not in this film, but he likes animals too. And cameras. He could probably have Tim Allen's job if he wanted it. He doesn't. Lucky Tim.
David was under attack from audiences last year when he told a story about elephants. That's what documentaries are. Stories. But the audiences said David used too much music and too many emotions, making his story less about fact and more about fiction. Silly David.
Meet Ivan. He's a reviewer. His seven-year-old nephew saw a documentary called Chasing Ice last year. That had no stories or emotions. His nephew loved it anyway. Well done, nephew.
Ivan's nephew will probably love Disney's Chimpanzee too. Like most children, Ivan's nephew doesn't know what anthropomorphism means, but he likes things with facts in them. He likes stories too. Does Disney's Chimpanzee need to present everything this way? Is the voiceover unnecessary as well as patronizing? Write your answer on a postcard and take it home to your parents.
Ivan thinks it's all too cute for children not to enjoy it. That goes for mom and dad too. Those cheeky adults! Chimpanzee may be a sickly watch at times, but it's a happy film. Awww.