Star Ratings
| | |
| --- | --- |
| | Amazing |
| | Well good |
| | Fun |
| | Meh |
| | Rubbish |
| | | |
| --- | --- | --- |
| London Film Festival 2012 Review: Lore | | |
Written by Ivan Radford
Friday, 12 October 2012 06:08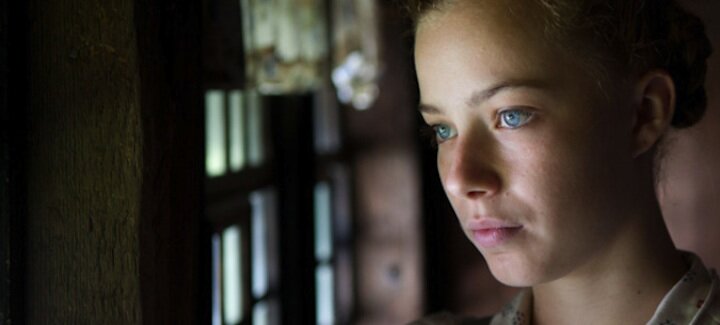 Director: Catherine Shortland
Cast: Saskia Rosendahl, Kal Malina
Glasgow Film Festival showtimes
It's not easy growing up as a teenager. But try growing up at the end of World War II with Nazis for parents. Facing the end of one world and the beginning of another, Lore (Rosendahl) is ordered by her departing mother to take her younger siblings to their grandmother's house in Hamburg. "Are you going to prison?" she asks. "I'm going to a camp," comes her mum's austere reply. "Prisons are for criminals." Then, one final charge: "Don't forget who you are."
Those words ring throughout Catherine Shortland's film. Based on a story from the novel The Dark Room, it's a tender, grim look at one girl's forming identity, just as a nation's is crumbling away. The journey is made even more complex by the kids' dependence on another to survive: Thomas (Malina). He's a Jew.
"I don't want you touching the children," sneers Lore before turning around and running his hand over her legs. As the fledging Nazi, Rosendahl is incredible. All blonde hair and blue eyes, she's an Aryan textbook with only half the words in it – a walking microcosm of guilt, denial and hormones. Most adults would struggle to play that. The fact that Rosendahl is completely new to the screen makes her performance even more compelling.
The pacing is slow – too slow, in parts – but Adam Arkapaw's cinematography captures the frail beauty of a destroyed country's landscape, while Shortland's co-written script focuses on small moments rather than big sweeps. At one point, Lore walks in on what is effectively rape, but the act itself isn't what sticks in the mind: it's the disheveled SS uniform. Upon her entry, the male officer tries to smarten up. Why bother keeping up appearances at all? The look of pride and shame on his stubbled face speaks volumes – and when you see that same expression on Lore one hour later, it shouts even louder. 

Tags:
catherine shortland
kal malina
lore
saskia rosendahl