| | | |
| --- | --- | --- |
| Christmas Movie Cupcakes; The Snowman | | |
Written by Ivan Radford
Sunday, 09 December 2012 11:59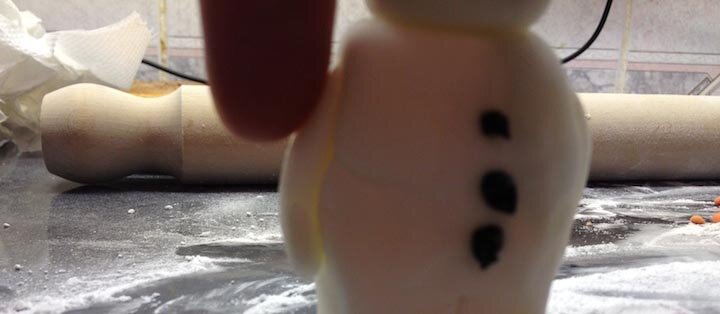 Dianne Jackson's animation of Raymond Briggs' picture book is an undeniably adorable piece of Christmas happiness. Put some of that frosty warmth in your belly by making some Snowman cupcakes - the perfect antidote to Channel 4's possibly-awful sequel, The Snowman and the Snowdog, which is showing on Christmas Day.
Ingredients
A whole lot of love
A ton of icing
100g butter
100g sugar
100g SR flour
2 eggs
1/4 tsp baking powder
1/2 tsp vanilla essence
Decorating
Icing sugar
Water
Black colouring
Red colouring
Green colouring
Yellow colouring
Mix the ingredients and cook the cupcakes for around 15 minutes at 180 degrees. Then grab a ton of icing - and an unhealthy amount of food colouring.
Roll a big round snowball out of your pile of white icing, then add a smiley face and two eyes.
Roll out an even bigger snowball, then shape it into a giant tooth. Using a knife, carve out a gap between his legs (taking care not to damage his invisible snowpenis.) Then roll out some more white icing in your fingers and stick on an arm either side.
Dump a ton (well, a tsp) of yellow food colouring into a bowl with some more icing. Roll out a tiny carrot nose, then squash it onto his face using water to stick it on. (Actual carrot can be used instead. But why use disgusting carrot when you have cake and icing?)
Green food colouring now, and you want to roll out a flat disc of icing along with a round ball to form the centre of his trendy hat.
Accessorize that icing, baby! Now he has a cool hat, he needs a stylish scarf to go with it. It gets cold on top of cakes, you know.
Dust icing sugar over the top of the cake - IT LOOKS LIKE SNOW. 
Using a splash of water, stick it all together and ta da! Your very own edible version of The Snowman. 
Now feel guilty as soon as you eat his cute little head. You cannibalistic git.
For more Christmas movie cakes, continue opening our Advent Calendar: i-flicks.net/advent-calendar
Tags:
christmas cake ideas
christmas movie cupcake