| | | |
| --- | --- | --- |
| Argentine Film Festival Interview: Dario Nardi (Sadourni's Butterflies) | | |
Written by Ivan Radford
Sunday, 21 April 2013 17:01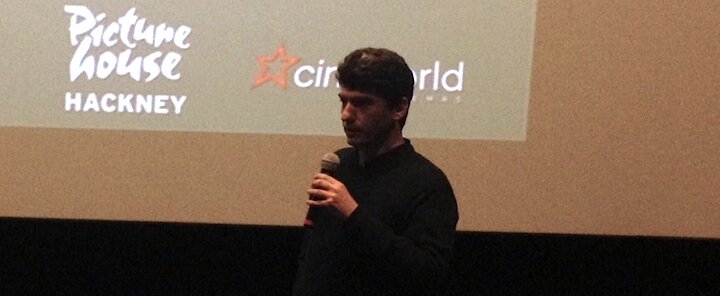 Dario Nardi's debut feature Sadourni's Butterflies is the closing film of the second Argentine Film Festival London. The tale of an ex-con dwarf joining the fetish film industry in order to go straight (literally), it's a bizarre, surreal film full of expressionist flourishes.
We tracked him down in the sexy Hackney Picturehouse, where he talked after a screening about his inspirations and choosing to shoot in black and white.
A dwarf joining the fetish film industry. It's not your average premise. Where did that come from?
It had quite a personal beginning. My brother had a problem in his leg – one was shorter than the other – so when he was 16 he had to decide between cutting his leg off or having a prosthetic leg. That was stuck in my head when I wrote this film about a dwarf trying to fit into society.
A lot of people will undoubtedly focus on the naughty film element…
Fetish is not necessarily porn. It's offbeat. It has more to do with manipulation. Sadourni goes to this place and he gets manipulated. He is playing the part of a dwarf to escape from being a dwarf.
There's a lot of symbolism in the film. Does his name represent anything?
The name Sadourni is a bit like sadomasochism. He's fighting himself. Exposing himself. He must show this darker side of himself to move forward.
Cristian Medrano's very good as your lead. How did you find him?
Cristian was actually a stripper in a dwarf disco! Volframio, the other man in his prison cell, I saw him in the street and wanted him for the part immediately. Then it turned out he had been in Almodóvar's Átame! – just one other movie he had made. In a city of million people, I spotted him. So I have a good eye! [Laughs]
There seems to be a lot of expressionist influence in the visuals. Was Eisenstein someone you had in mind while shooting?
I think that the influence of Eisenstein, even the animators of Germany, Russia are there. I love that kind of filmmaker – the ones who have one foot in art and the other in science, who can explain precisely about why they choose one angle or put one frame next to another. Even drawing is an intellectual process. If you an illustrator, you must be able to talk about your drawing – why did you use a pen or ink or whatever – and I love that. It's a very mechanical, un-spiritual process. But something extra happens at the end of it. It's a collective work. You can plan for years, but when you're shooting it's a whole different thing.
In one scene, for example, the art director wanted to put a mirror behind the bed, even though the camera was angled so that we would never see it. After a couple of hours, we didn't have time to rearrange the room or camera, so we used the mirror to have both angles in one shot – I don't know why but it happened like that.
It's almost emphasized by the fact that it's in black-and-white too. It has a film noir feel at times. What was the decision behind that?
I'm basically an illustrator, I work with light and shadows. I have a lot of respect for colour; if you don't use it properly, it's a digressive element. People have orange or pink faces... Colour carries a lot of information, so if you shoot in it, you must have the power to construct the message through those colours. For example, how green the grass is or what colour the clothes are. I don't have enough money to use colour properly, so I feel comfortable with black and white.
There are some stunning moments and transitions between frames. People turning into other people. Shadows. Umbrellas. How much planning did go into it?
Our cinematographer was extremely precise. We shared a lot of information together – after the second week of shooting, we were just talking to each other with our eyes! We planned with a very detailed storyboard, which was a great thing for him to focus his attention and knowledge, but two weeks before shooting, we didn't have permission to go into the place, which was the proper place to shoot the movie, so we had a Plan A, a Plan B, a Plan C, a Plan D… We considered all the possibilities. But if you have a Plan B, it must be better than Plan A!
For more on London's Argentine Film Festival, see the official site - or read our films you should see at the 2013 Argentine Film Festival.