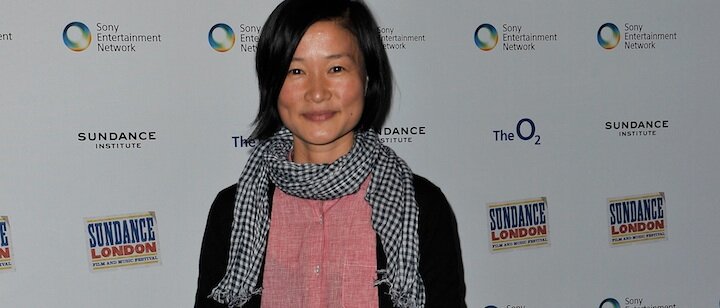 "I make films for myself, but I try to respect the audience at all times."
So Yong Kim is a quiet person. The kind of filmmaker who's too shy to speak up a panel discussing independent cinema and insists that she doesn't sit through a screening of her own film – or at least sits somewhere near the door so she can run away without anyone noticing.
But the director, who lives with her husband – also a filmmaker – in the US, has been a Sundance regular ever since she started out with a video camera and no money in 2006. After returning to Utah this year with For Ellen, the tale of a washed-up rock musician Joby (Paul Dano) trying to connect with his daughter before he loses custody completely, So Yong Kim has come to Sundance London to share her low-key, moving drama.
Here's what she had to say to us about funding, filming and Paul Dano's secret dance moves.
You said earlier on that you make films for yourself – is that where Joby and Ellen's relationship came from?
The story really started from this memory of meeting my own dad. He went away when I was a baby and when I was four years old he just came into the room and said "Oh, I'm your dad." I remember that moment – a very little moment – but I wanted to go back and take that story from his perspective.
Paul Dano brings a lot to an unlikeable role (not to mention an amazing dance routine). How did he respond to the script?
What he wanted to do was really develop the character before we started shooting, which was a great process. That bar scene was just that process coming together. In the script, it only says, "Joby picks a song on the jukebox and dances", but Paul took that to the next level. I had no idea, but he was practising that dance every night on the shoot and we did that dance on the last day – it was amazing and a complete surprise to me!
Dano also has a credit as an executive producer. How much impact did he have behind the camera in terms of getting the film funded?
Well, he has a name as an actor who has been in a lot of indie and action films so he has a full palette. When he agreed to the role it became a project that was more viable to actors. He brought the quality of the other performers higher too, and came to meetings with investors and everything.
This is your third film linked to Sundance. Presumably you're quite attached to the festival and institute as both a platform and support for independent filmmakers?
Yeah, this is my second film at the festival and my other film, Treeless Mountain, was developed through the Sundance labs. The whole Sundance Institute has been very supportive of my work. There's no way I could've made three films without their support and their help.
So what's next?
I'm working on a very difficult film…. about a mother character… (Laughs)
You live with your husband, who's also a filmmaker – what on earth is that like?
It's really intense! We just both love films. We show independent films to our daughter, she watches a lot of film, and we watch a lot of films… It's a great work in progress!
For Ellen is showing this weekend at Sundance London – and, So Yong Kim revealed to us, will now be distributed in the UK by Soda Pictures. Head this way to read our For Ellen review.