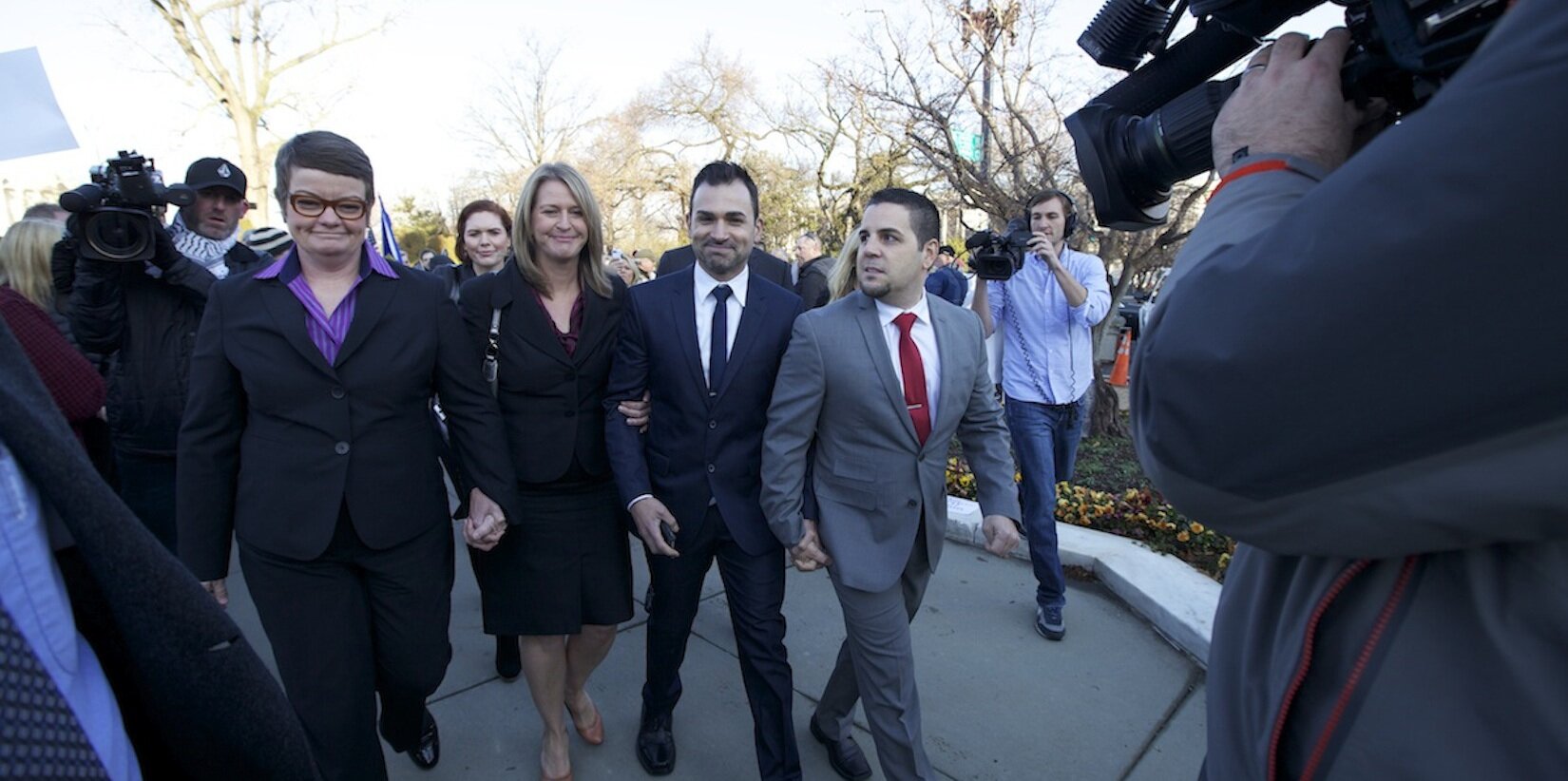 Directors: Ben Cotner, Ryan White
Cast: Jeffrey Zarrillo, Paul Katami, Kris Perry, Sandy Stier
Showtimes
In 2008, California legalised gay marriage. A few months later, Proposition 8 was passed, banning it again. The result left newly weds robbed of their official relationship status, marginalised by society without the same legal rights as heterosexual couples - and left the American Foundation for Equal Rights (AFER) hungry for justice. And so they began legal proceedings against the state on behalf of four plaintiffs: Jeffrey Zarrillo and Paul Katami, and Kris Perry and Sandy Stier.
Directors Ben Cotner and Ryan White follow the case through from its beginning to its end - a period of approximately four years. Their incredible long-term commitment pays off with a moving and entertaining record of a long step back towards equality. Editing down hundreds of hours of video, The Case Against 8 plays out like the biggest wedding you've ever seen. The scale of it, though, is also the documentary's downfall.
AFER waste no time in securing their legal team, made up of respected democrat David Boies and - their secret weapon - Ted Olson, the Republican who fought against Boies in the controversial Bush-Gore election. The right-wing are angry and feel betrayed, the left scared he's a mole trying to sabotage everything, but Cotner and White reveal him for the generous, supportive man he is. Indeed, they have tons of footage of the behind the scenes process, as they build up the case against Prop 8, which begins with finding their happy couples.
The four plaintiffs are all immensely likeable: Jeffrey Zarrillo and Paul Katami are keen to bring up kids but don't want to shortchange their love for a civil union, while Kris Perry and Sandy Stier already have four children between them, all of whom show that a gay family unit is no more harmful than a heterosexual one.
Giving their testimonies to the camera in vox pops throughout, their affection for each other is entirely moving: "I love him more than I love myself," says Jeff, on the stand, before Paul is called as a witness. Passing each other, they kiss briefly, an act that was reported as brazen at the time, but they describe as a natural reaction to what Jeff just said. It's one of several moments that threaten to have you weeping in the aisles - it's just a shame that we don't get to see it first-hand.
Not allowed to record the trial (thanks to the defendants' legal wrangling), the directors come up with an inventive solution to dramatise it: excerpts of the court report are show on screen as the respective people read them out again. It works, but not always as well as intended.
That relative lack of access is one of many obstacles the American legal system throws in their way: capturing events as they unfolded, the stop-start nature of the court circuit leaves the film moving in bursts. A positive verdict is reached within an hour, only to be followed by a second hour of appeals and rebuttals. The film is careful to add in humour from Ted and David to balance out the repetition - one moment where Ted comes out for lunch is priceless. "What's this?" he asks. "Tacos," smiles David. Ted frowns. "They said there'd be pizza."
If the film spent more time focusing on their struggle - a courtroom thriller with comments from the (absent) opposition team - the lengthy legal process would perhaps feel more interesting in the film's final half. The directors weren't allowed to show discussions involving the tailoring of the case for Supreme Court judges, but more detail in the selection of the four partners would be a fascinating addition. "They have to be just like everyone else," says David. "But they also have to appear to be like everyone else, which is a very different thing."
As it is, the people involved do come across like everyone else; their candid comments give the project a heart. Heavy-handed touches such as Blake Neely's music - full of cheesy piano and rousing chord changes - mean that the movie's 120-minute runtime lolls along at a far less urgent pace, often falling into generic territory, but you're never not engaged. A documentary, though, must be more than a good tale: already backed by HBO, The Case Against 8 is a moving story but not always a gripping film.
When the feel-good ending arrives and they can finally get married (again), the pay-off almost makes the wait worth it, even if the emotional peak arrived earlier. As crowds gather outside City Hall and Obama turns up on the phone, The Case Against 8 feels like the biggest wedding you've ever seen: inspiring, moving and occasionally too long. Like all good weddings, though, you'll find it hard not to cry.