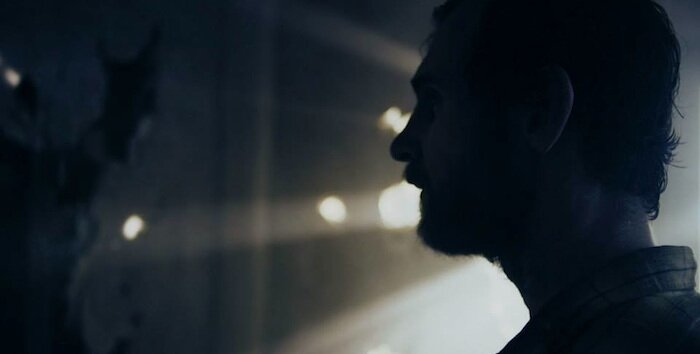 Director: J.P. Davidson
Cast: Matthew Jure

Showtimes: 18.30, 26th / 10.10, 27th
A man's home is his castle, so the old saying goes. But in the UK, that saying feels older than ever: after years of Right to Buy, buy-to-let and nothing being built, the nation's facing a crippling housing shortage, sending prices soaring and trapping a generation in rented accommodation. God's Acre doesn't just capture that feeling on screen; it builds an entire movie around it, complete with a roof and chimney.
The film stars Matthew Jure as Malcolm, a developer who's fallen foul of the recession, spiralling into debt. The only thing to his name? A property that needs to be done up and sold on, if he's ever going to get his life back on track. Jure is superb as the desperate man, all frazzled facial hair and frantic eyes; he spends his days cowering in the gloom, occasionally wielding a hammer.
As the pressure on him mounts, that hammer gets used more and more often, less a tool than a weapon to fight back against his problems. But it soon uncovers something rotten in the brickwork; a creeping unease that seeps through the entire frame. It's a fantastic directorial debut by J.P. Davidson, whose experience as an editor pays off in dividends: chopping the film together with Teddy Bekele (veteran of The X Factor and The Great British Menu), the dread is palpable, as the fast-cut visuals combine with whispering voice overs, creaks and tinkling wind chimes (not to mention Christopher Campbell's atmospheric music). There's a very real sense that the walls are closing in; even Malcolm's only friend, Sonny (Richard Pepple), turns out to be mostly interested in reclaiming owed money.
Never really leaving the confines of the property, God's Acre ramps up the claustrophobia to unsettling extreme. On paper, a horror flick about home improvement sounds daft, but on the screen, this is a scarily literal take on the notion of dispossession and being possessed; you'll never look at the phrase "haunted house movie" in the same way again. Just how contagious the clammy mood is only becomes apparent when an innocent neighbour wanders in for coffee. With the windows open and the sunlight streaming in, the startling nastiness of Malcolm's existence is exposed, throwing the curtains wide on an age in which a home is less like a castle and more like a prison.