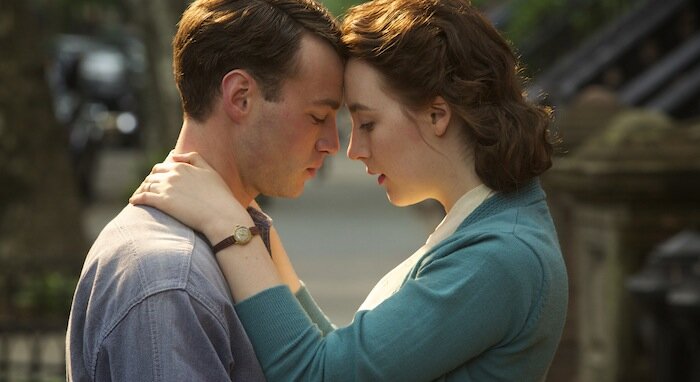 Director: John Cowley
Cast: Saoirse Ronan, Emory Cohen, Domhnall Gleeson, Jim Broadbent
How do you build a life in a new country? That's the question facing Eilis (Ronan) in Brooklyn - until it's replaced by another, equally tough question: what if you then realise you could have an equally perfect life back where you came from?
Nick Hornby adapts Colm Toibin's novel for the screen with typical wit and heart, creating a story that manages to be full of both cheerful hope and painful nostalgia. Saoirse Ronan shines in the lead, the excellent make-up and costume team making her as plain and blank as possible in the vibrant, colourful New York scene. Her face, which so subtly shifts between emotions, is perfect for the conflicted part - ably matched by Emory Cohen's swoonsome suitor, who never feels less than certain about his feelings. You suspect he's only one smile away from heartthrob stardom.
Cohen is as charming as Domhnall Gleeson's boy back in Ireland is polite - between Star Wars and Ex Machina, Gleeson is on roll right now - while Julie Walters' hilariously uptight landlady helps to juggle the cheerful and sad mood.
It's the understanding of what makes a home, though, that gives Brooklyn its old-fashioned, moving magic. John Crowley shoots the tranquility of Wexford with a twinkle in his lens, but it's the gradual assembling of clothes, cosmetics, work colleagues and confidence that convinces; the attention to period detail (the film, curiously, wasn't shot in Brooklyn at all, but in Montreal) becomes an intrinsic part of character and plot development: as Eilis looks more and more American, her journey becomes more and more engaging. The result is a funny and unabashedly sentimental tale of belonging and starting over.