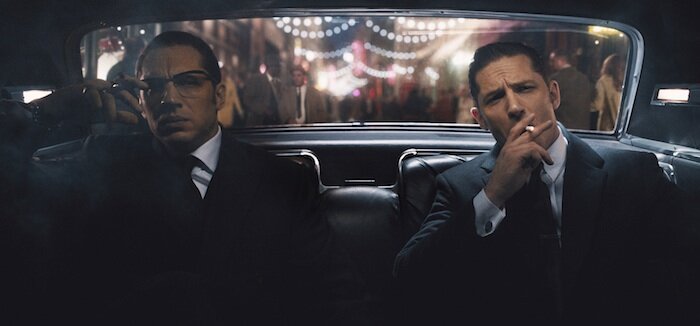 Director: Brian Helgeland
Cast: Tom Hardy, Tom Hardy, Emily Browning
Certificate: 18
What's the only thing better than Tom Hardy? Two Tom Hardys. It's hard to argue with the logic behind Legend, which sees the actor take on the dual role of Reggie and Ronnie Kray - and sure enough, he knocks it out of the park.
Hardy swaggers about the place as Reggie, as cool and suave as his suits. Then, thanks to some CGI trickery, he stomps into frame as Ronnie, all pout and aggression. It's a neat study of two halves of a whole: one glances sideways; the other stares bluntly at you.
The loud title immediately makes it clear that we're not in for a low-key ride: Brian Helgeland's film is a brash, cartoonish take on the famous gangsters, positioning the brothers as monuments of myth. Hardy's performance - one of the best of his impressive career - fittingly towers over it all. It's sad, then, that the rest of the movie never quite escapes from his shadow.
That problem is evident throughout the production in both big and small details. To match Hardy's larger-than-life presence, Helgeland's camera adopts a similarly glossy attitude. On the one hand, that allows for dark humour, as the graphic violence veers towards Tarantino levels of gore. On the other hand, it means everything has to scream 1960s to be heard over the soundtrack, which packs in obvious tunes like a Spotify playlist your boss has chosen to put on at work.
The result is something so stuffed with period details that it feels a little too faux to fully convince. When it comes to the punch, though, Hardy still sells it: a fight sequence between Reggie and Ronnie, which could be straight out of an Eddie Murphy comedy, is both emotional and dramatic, not to mention physically brutal.
The film tries to balance that nastiness with a lighter touch, packaging up the story as a doomed romance told from the perspective of Reggie's girlfriend, Frances. Emily Browning is good as the melancholic mobster's moll, but she's wasted in the role, which uses her as a conduit for the narrative rather than an actual character - a mismatch that drives the uneven tone. She joins an equally impressive supporting cast, which includes Colin Morgan as her brother, David Thewlis as Reggie's wonderfully weasel-like legal adviser, Leslie, and Paul Bettany as rival criminal Charlie Richardson.
The latter turn occurs during a superbly-judged opening sequence, which quickly slips in exposition and historical atmosphere with a subtle confidence. But this isn't a place for subtlety and there's little room on screen for anything that isn't Hardy; Christopher Eccleston as the cop bent on capturing the Krays is presented with such weight that you wonder why he's only in it for 10 minutes. As things escalate into amusing photos with politicians and graphic turf wars, the script's swings become increasingly wild. Tom's star quality isn't in his performance, but in his ability to smooth over that transition; the unbalanced mood becomes an echo of his own contrasting characters. When he's on screen, it's never less than entertaining. The film itself may not go on to become a legend, but it makes a convincing case that Hardy should.