i-flicks.net
| | | |
| --- | --- | --- |
| Bale Rant Released Online | | |
Written by Ivan Radford
Wednesday, 04 February 2009 09:17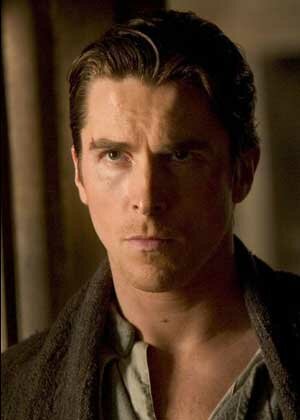 Audio of Christian Bale's on-set rant has been leaked onto the internet (thanks to TMZ.com).The tirade occured on the set of Terminator 4 back in July, after the director of photography, Shane Hurlbut, accidentally walked onto the set during a scene. The result? Well, listen to it yourself (contains explicit language):
But the anger doesn't stop there...
Read more...
| | | |
| --- | --- | --- |
| Benjamin Button's Curious Lawsuit | | |

Written by Ivan Radford

  
Sunday, 01 February 2009 16:05

The makers of The Curious Case of Benjamin Button, currently nominated for 13 Academy Awards, are being sued for plagiarism. Italian writer Adriana Pichini has claimed that the film is based upon a story she wrote 15 years ago.


The film, still to be released by Warner Bros later this month, is supposedly inspired by F Scott Fitzgerald's short story about a man who ages in reverse. His acclaimed tale, of the same title, was published in 1921. Pichini's lawsuit, however, alleges that David Fincher's film is based upon her 1994 story, Il ritorno di Arthur all' innocenza (Arthur's Return to Innocence), which was registered with Italian authorities at the time. It was also sent to US publishers, but never published.


"At this point it's still a matter of principle," Pichini's lawyer, Gianni Massaro, told the Hollywood Reporter. "What happens next will depend on what the judge rules." No timetable has yet been set for the judge's viewing of the film.

 

| | | |
| --- | --- | --- |
| BAFTA Nominations Announced | | |

Written by Ivan Radford

  
Thursday, 15 January 2009 08:48

Here we go again, but this time on home soil, and Danny Boyle has done it a second time: with a total of 11 nominations, Slumdog Millionaire is all over the shop. In fact, the only other film with that many nods is The Curious Case of Benjamin Button - it grabbed nowt at the Globes, so it's not an odds-on favourite.

Then it's The Dark Knight in third (9, none for Nolan's direction or script), just leading Changeling (8) and Frost/Nixon (6). The Reader nabs 5 noms (including the Winslet twins again) and, in last place, not just Milk and Revolutionary Road, but also In Bruges, all with 4.

Read more...

 

| | | |
| --- | --- | --- |
| Oscar Nominations Announced | | |

Written by Ivan Radford

  
Thursday, 22 January 2009 13:41

Here we go! The 2009 Academy Award Nominations were announced on Thursday 22nd January by Forest Whitaker at 5.30am PT (1.30pm for us in old Blighty) in the Academy's Samuel Goldwyn Theatre.


Annoyingly, Benjamin Button's Curious Case aroused the Academy's interest the most, with 13 nominations. Right behind it is Slumdog Millionaire (well done the Brits) with 10. The Dark Knight got 8, the same as Milk, but (perhaps unsurprisingly) Batman is up for neither Film or Director. Technical noms ahoy - along with Heath's obligatory nod. At the bottom of the pool sits Frost/Nixon, The Reader, WALL-E and Doubt. They all have 5.


Any surprises? Well, Melissa Leo is up for Best Actress in indie film Frozen River, which did nicely at last year's LFF. Frozen River also skates into the screenplay arena, where it faces off with WALL-E and (in a lovely turn) the wonderful In Bruges. Brilliant to see Robert Downey Jr. up for Tropic Thunder (an acting award? For Robert? In a comedy role? It's about time!) and Brolin down for the twinkie-guzzler Dan in Milk. The only real surprise is Richard Jenkins for Lead Actor in The Visitor - the second feature from The Station Agent's director, Thomas McCarthy. The Winslet twins are now separated, however, leaving Anne Hathaway, Meryl and oh my god WHO'S THE OTHER ONE with slightly better odds...


Here's what we got:

Read more...

 

| | | |
| --- | --- | --- |
| Golden Globes - The Winners | | |

Written by Ivan Radford

  
Monday, 12 January 2009 08:37
Well, Kate did it for the Foreign Press Association. Old SS Winslet beat Ange to the Best Serious Actress award - not for The Reader (where her performance was a far more understated form of Oscar-baiting, with no screaming or wailing) but for Revolutionary Road. What is surprising, though, is that she got the Best Supporting Serious Actress for The Reader as well.

In other categories, Danny Boyle did as I predicted and swept Clint Eastwood clean away with his vibrant, sassy and overall British, direction. Nice one, Danny. And Slumdog naturally picked up screenplay and soundtrack awards - is there any other score that could compete? Hardly Changeling's melodramatic slush. Slumdog is so full of crack-a-lacking components, in fact, that it won Best Serious Film too. Well done the Brits!

Speaking of which, Sally Hawkins got her recognition (as I did indeed pray for), trumping Penelope Cruz for her winning, winsome and whimsical portrayal of Happy-Go-Lucky teacher Polly. If you're up there, Morgan Freeman, thank you. And whilst on the topic, congratulations to Heath Ledger. Was there ever any doubt?

Anyway, enough of that. Here are the winners:

Read more...

 
229 230 Next > End >>


Page 229 of 230