Happy Birthday, Totoro!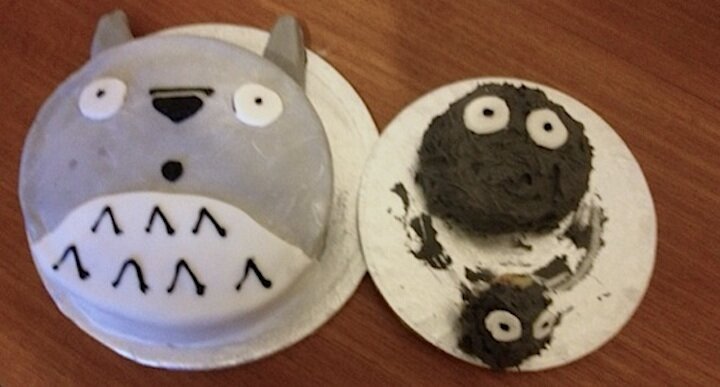 My Neighbour Totoro is 25 years old this year - it doesn't look a day over one. An adorable classic about two girls (Satsuki and Mei) moving home while their mum's in hospital during post-war Japan, it's a film of big ideas on a very tiny scale. A film that doesn't rely on artificial conflict, doesn't give in to narrative conventions and is full of beautifully-drawn slices of nature, its gentle plot, gorgeous visuals and universal themes make it an ageless animation. To my mind, it's a lot like Up - if Pixar's bold opening act lasted for the whole film.
To celebrate its anniversary, here are 25 awesome true things about one of Ghibli's best.
1. It's a Fanning fest
The English-language voiceover makes My Neighbour Totoro the only film where Dakota and Elle Fanning have worked together.
2.
Totoro appears in Toy Story 3.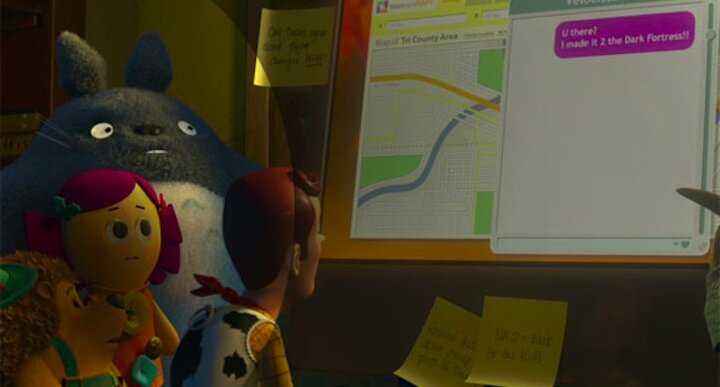 3. Totoro also appears in South Park.
Well, sort of. He's referenced in Mysterion Rises, in which Cartman plays on the belly of Cthulhu.
4. Totoro cakes are yummy (see above).
(Pester me on Twitter for a recipe/custom Ghibli cake - thanks to @RichFilm and @BethFilmJuice, whose baked goods I photographed.)
5. Totoro was a huge cuddly flop when it was released.
"Back then," explains its producer on the film's Blu-ray, "a story without a hero or a girl with superheroes and the ordinary Japanese scenery wasn't entertaining enough."
6. Only when stuffed Totoro toys were released did the film really find success.
They started to produce them after the film found popularity among audiences on TV.
7. Stuffed toy Totoros are amazing.
You can also get Totoro-themed mugs, cushions, sleeping bags, electric fans, onesies...
8. Totoro is a troll
Or at least, his name comes from Tororu, a mispronunciation of the world "troll" - you can see one of the daughters reading The Three Billy Goats Gruff at the end of the film.
9. It was partly inspired by E.T.
Originally, director Hayao Miyazaki wanted to introduce Totoro in the film's opening scenes – something that would've led to a very different film entirely. But one of Ghibli's producers, Toshio Suzuki, stepped in to stop Hayao making a huge mistake."Why not?" he asked Suzuki. "Look at ET," came the reply.
10. Totoro makes lovely GIFs.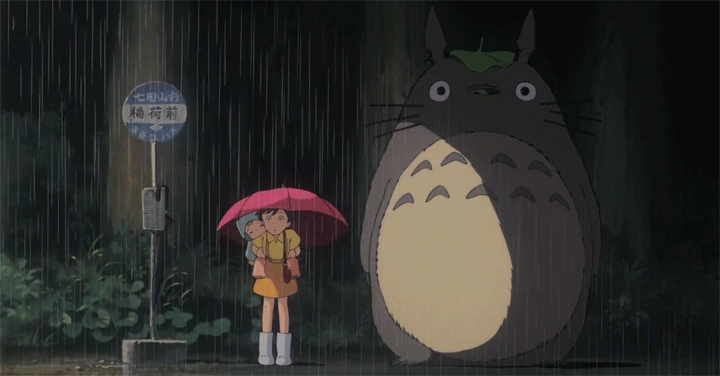 11. There is a train station called "Totoro" in Miyazaki, Japan.
Yep, there's a place called Miyazaki.
12. There are three types of Totoro.
King Tororo, Medium Totoro and Small Totoro. The last two are 60cm and 20cm tall respectively, according to the internets.
13. Totoro makes adorable GIFs.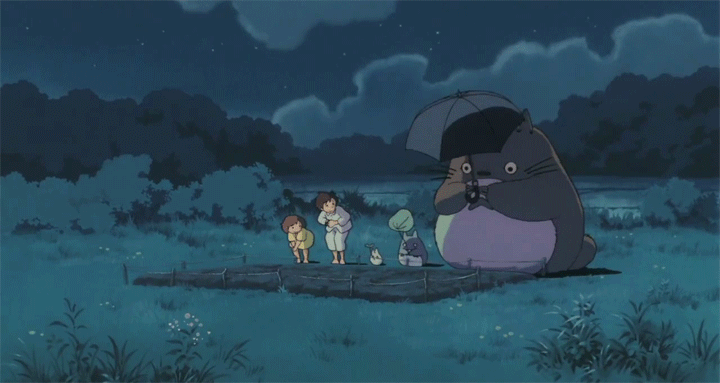 14. The Cat Bus in Totoro stems from a Japanese superstition, Bakeneko
The belief is that when a cat grows old, it gains shape-shifting skills. Just, you know, because.
15. It's not just the Cat bus...
There are loads of types of cat-related vehicles, which were featured in a 2003 short film called Mei and the Kittenbus.
16. Hayao Miyazaki is obsessed with planes...
... which is why little boy Kanta is seen playing with a toy airplane in one scene.
17. Totoro is so awesome that he became the basis of the official Studio Ghibli logo
18. Totoro has an asteroid named after him
It's called 10160 Totoro.
19. Totoro makes amazing GIFs.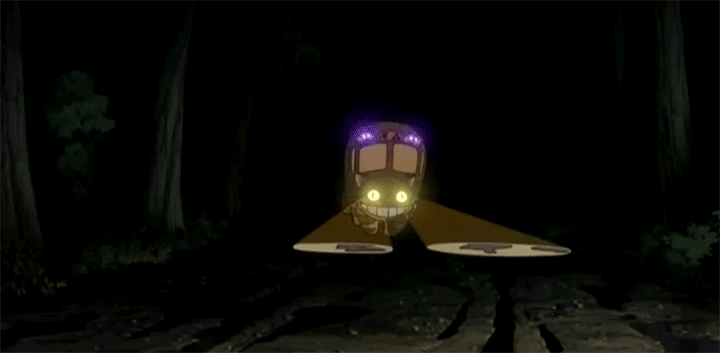 20. Some people claim that the film is really about death
The theory: Totoro is the God of Death and can only be seen by people who are dead/going to die. So when Satsuki's sandal is found in the lake… (Sorry for ruining the film for you forever.)
21. Totoro makes silly GIFs.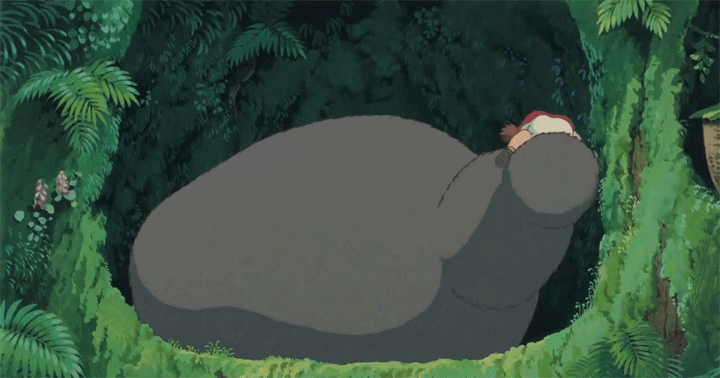 22. Totoro's story is semi-autobiographical
The story is based on Hayao's own childhood, the Totoro Blu-ray reveals, when his mum was in hospital with tuberculosis.
23. There is Velvet worm species name after Totoro
It's called Eoperipatus Totoro, a name inspired by the fact that it looks a bit like the Cat Bus.
24. Totoro makes pretty GIFs.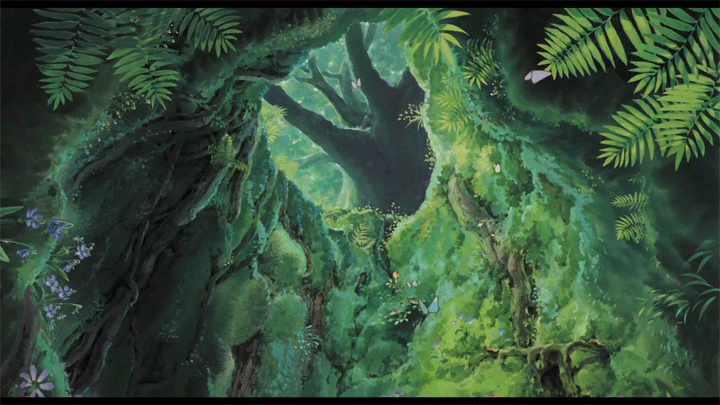 25. My Neighbour Totoro is back in UK cinemas
It was released as a double-bill with Grave of the Fireflies in 1988. It is showing again with Fireflies in UK cinemas this week. Take your children/nephews/nearest available child now.