Blog
| | | |
| --- | --- | --- |
| How to get your indie movie on iTunes - Gary King interview | | |
Written by Ivan Radford
Wednesday, 27 March 2013 16:22
How do you get your indie movie on iTunes? It helps if you're Gary King. The director of How Do You Write a Schermann Song?, which hit iTunes worldwide yesterday, has the enthusiasm to back up his talent - and, it turns out, the contacts too. He explains in this interview with Film Courage how he got digital distribution in an age where theatrical releases are harder and harder to come by.
"Some other people to validate it helps," he says. "There's a fine balance. You have to believe in it... but it is that type of world where that validation is needed from someone else, whether it is a friend, or a festival or a critic. If you have some kind of write-up about it, that helps..."
You can read our review of How Do You Write a Joe Schermann Song? here. We first saw it at last year's Raindance Film Festival. Naturally, I take full credit for giving Gary's film the positive write-up it needed. Except for the part where he says he already had iTunes on board at that point.
"It was a good feeling to go around and not have that look of desperation..." he adds.
I won't tell him about his facial expression if you won't.
How Do You Write a Joe Schermann Song? is out now on iTunes. Watch it here. It's fantastic.
Add a comment
| | | |
| --- | --- | --- |
| Wolverine goes berserk on the Central Line. And everywhere else. | | |
Written by Ivan Radford
Monday, 25 March 2013 11:32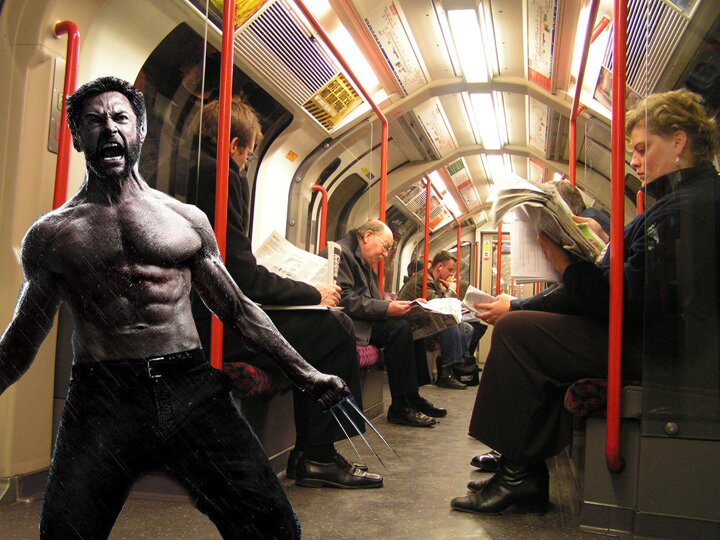 A new Wolverine poster turned up online this morning, showing Wolverine going berserk in the middle of Tokyo. This is obviously completely different from the previous stills of Wolverine, which have shown him going berserk in a house. And in a park.
That's the problem with Wolverine. The two most exciting things about him are 1. When he goes into berserker rage mode and 2. When he takes his top off. The new poster, inevitably, ticks both boxes.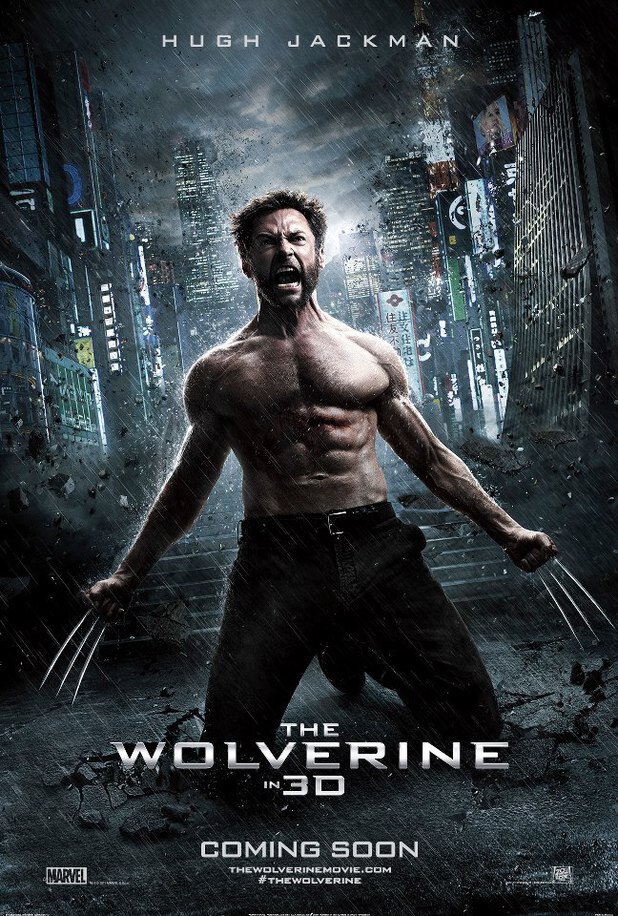 But if you don't release an image or poster with one of those, it's nowhere near as interesting. So, with a little help from LOVEFiLM's Rich Turner and Total Film's Matt Risley, here are some images of Wolverine going berserk everywhere. Just in case Fox run out of ideas.
Add a comment
Read more...
| | | |
| --- | --- | --- |
| $3.8 million later… Kickstarting Warner Bros | | |
Written by Ivan Radford
Monday, 25 March 2013 08:13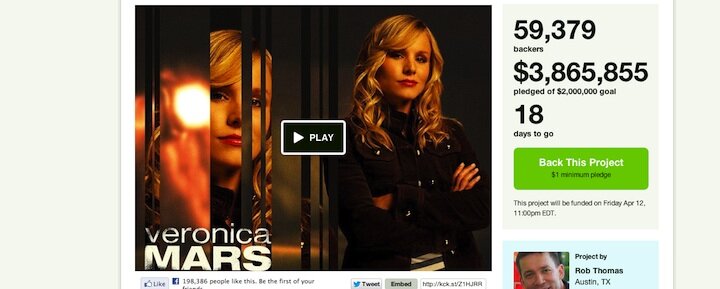 10 days ago, Rob Thomas broke the internet – and potentially the movie industry – with his Veronica Mars Movie Project on Kickstarter. Could a crowd-funding campaign really raise enough money to resurrect the cancelled TV show?
$3.8 million later and the answer is more of a collective "SQUEEEEEEE!" than a "Yes". Fans around the world are overjoyed their favourite series is getting a big-screen outing. But that's nothing compared to the squeeing that must be going on at Warner Bros.
Veronica Mars broke several firsts when it passed its $2 million target. It's the first old TV show to be rejuvenated by crowd-funding, the first Kickstarter film to ask for over $1m (only 87 successful film projects have ever asked for over $100k), and – most importantly – it's the first studio-backed movie to crowd-source money.
At the time, everyone turned straight to Joss Whedon, hoping it would kick-start some kind of Firefly resurrection.
One week on, the dust has settled. What's changed?
Add a comment
Read more...
| | | |
| --- | --- | --- |
| Breaking: World War Z in good trailer shocker | | |
Written by Ivan Radford
Monday, 25 March 2013 08:03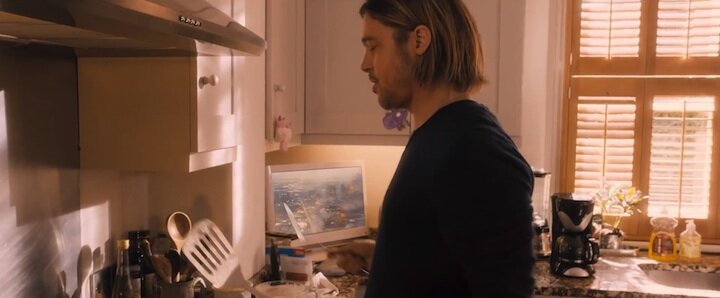 World War Z has a new trailer and - in a shocking twist - it's really good.
"We just thought we'd not do a crap trailer," said a spokesperson for the film. "The bad CGI and the lack of any plot exposition that we used in the teaser trailer? We just thought: why bother, when we can make a really good trailer?"
Audiences around the world have agreed that the film's reputation has improved immeasurably since the new video went live this morning.
"I used to think it looked naff," one person wrote. "But now I think it looks alright. Not amazing, but definitely alright. I really like the bit where Brad Pitt holds a spatula, cos it shows he's, like, a normal, everyday human being. Hollywood stars don't use spatulas." 
Director Marc Forster, Brad Pitt and other members of the cast were unavailable for comment, although one person who was on set during production said this via Skype: "Grrrrrr, arrrrgggghhhh, braaaaaaaains..."
The film is out in cinemas in June. Read on for the new World War Z trailer:
Add a comment
Read more...
| | | |
| --- | --- | --- |
| Jack the Giant Slayer - too scary for kids? | | |
Written by Ivan Radford
Friday, 22 March 2013 17:17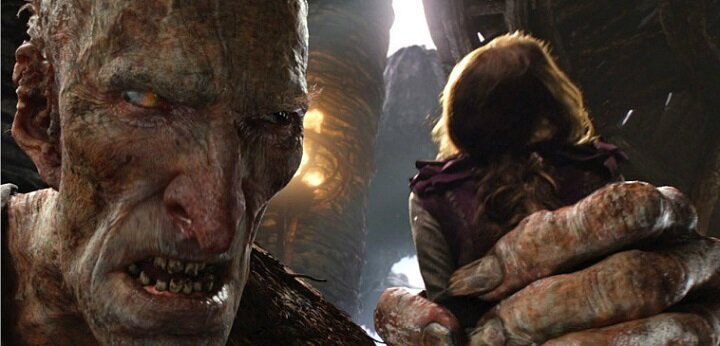 "Ow!"
"Are you ok?"
"My eye hurts."
"What happened?"
"The glasses poked me in the eye."
That was my nephew to me during a screening of Jack the Giant Slayer. We left the cinema and continued our conversation/impromptu medical examination in the foyer.
"How did they poke you in the eye?"
"The film made me scared, so I covered my face and knocked the glasses, which then hit me in the eye."
"So you were scared – and you hit yourself in the face?"
(Laughs) "Yes,"
"Do you want to go back in and see the rest of the film?"
"No."
"Is it because it's scary?"
(Nods)
"You're sure?"
"Yes."
And so we left the cinema after 45 minutes because Jack the Giant Slayer was too scary.
Read more...
| | | |
| --- | --- | --- |
| Spot the unnecessary shot in the Star Trek international trailer | | |
Written by Ivan Radford
Thursday, 21 March 2013 09:53
The new Star Trek international trailer arrived online this morning and it's fantastic stuff - except for one shot, which feels wholly unnecessary. Can you guess what it is?
Can anyone give me a valid reason why that shot is in the trailer? Apart from continuing the dated costume department traditions of the TV series. Or getting teenage boys excited about possible sex in the movie.
UPDATE: It turns out there is - sort of. There's a hidden web link in that shot that unveils a new poster, according to Digital Spy. But that little marketing ploy could've been inserted into any other moment in the trailer...
To be fair, maybe there's a really good reason why Dr. Carol Marcus (played by the fantastic Alice Eve) has to undress in the film. Perhaps Dr. Carol's uniform is infested with space lice, which as we all know are allergic to the scantily-clad female form. Maybe it's part of a bet that wins Dr. Carol the respect of the whole Enterprise crew. Maybe Dr. Carol just heard Benedict Cumberbatch was in the vicinity and acted accordingly.
I'm not saying the whole movie is completely sexist. And it might seem daft to question such things when most of the world's female (and male) population are openly lusting over The Bumberbatch. But while his voice sends shivers down everyone's private bits, there's a crucial difference between the King of Cheekbones and Dr. Carol: he wasn't asked to take his clothes off. (Disclaimer: If he does take his clothes off in the film, I take all of this back.)
Now, this is nothing new in movie advertising ("Male-targeted marketing campaign accused of sexism shocker"), but how many people out there didn't even notice that shot, or considered it merely to be par for the course?
The simplest test, which I sadly don't have the time to do because of the old day job, is to try the video without it. Hidden poster aside, if the Alice Eve shot were removed, would the trailer still be as exciting?
While you decide that, I'm off to exterminate those pesky space lice.
Add a comment
| | | |
| --- | --- | --- |
| Phwoarrrrgh, it's the Star Trek Into Darkness international trailer | | |
Written by Ivan Radford
Thursday, 21 March 2013 07:42

"I will walk over your cold corpses."
That's Benedict Cumberbatch, there, scaring the crap out of Captain Kirk in the new Star Trek Into Darkness trailer, while simultaneously arousing every single person in the audience. Terrified AND turned on? It's a sensation I have dubbed "Phwoarrrrgh".
So yeah, the new international trailer for Star Trek Into Darkness. Phwoarrrrgh.

J.J. Abrams' sequel is out on Friday 9th May. I'm excited. But scared. But also excited. And scared.
Add a comment
| | | |
| --- | --- | --- |
| NO says YES to video on-demand | | |
Written by Ivan Radford
Wednesday, 20 March 2013 07:36
I love a bit of video on-demand. Demanding the old video on my computer or TV. Watching it. On demand.
So I'm bristling like Gael Garcia Bernal's beard hair to discover that Pablo Larrain's excellent Chilean drama NO has gone down the VOD route, renting itself out until Friday 22nd March on both iTunes and Curzon On Demand. Those two platforms alone are fantastic because they give audiences outside of an arthouse or indie film's limited theatrical release to see it - and NO is taking full advantage, a move that ad man Rene Saavedra (hired to campaign against Pinochet in a national referendum) would approve of. Yeah, that's right. Now you have NO excuse not to see it.
For those in the London area, though, even better news: you lucky folk can still see NO at the Prince Charles Cinema and (from today - again) the Curzon Soho. To celebrate, here's a nifty infographic to explain the background to the NO campaign: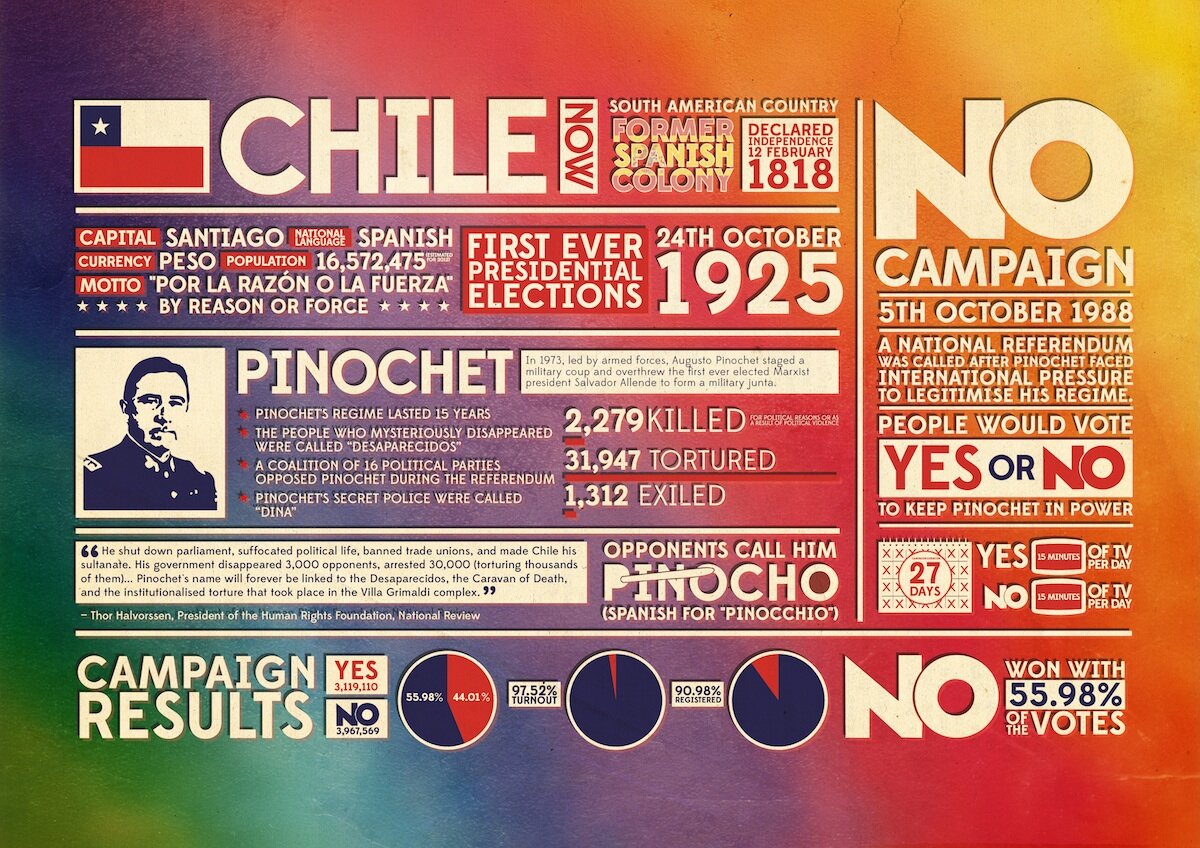 And remember: NO? More like hell yes. (You can read our London Film Festival NO review here.)
Add a comment
<< Start < Prev 1 2 3 4 5

6

7 8 9 10 Next > End >>


Page 6 of 229