Blog
| | | |
| --- | --- | --- |
| Cracks - New Clips Online | | |
Written by Ivan Radford
Thursday, 03 December 2009 17:26
In case you'd forgotten, the wonderful directorial debut of Little Miss Ridley (aka Jordan Scott) is released tomorrow. A captivating drama, Cracks stars Eva Green at her most voluptuous as Miss G, teacher at a female dormitory school and captain of the swimming team. Examining the relationship between favourite pupil Di (Juno Temple) and her mentor, Cracks is a powerful tale of obsession and swimwear. I'll just repeat that: obsession. And swimwear.

Now, we loved this when we saw it at the London Film Festival, and we're extremely excited to give you some brand spanking new clips (without spanking, I should add) from the film. Think of it as a present. An advent present, to be exact - this is our first stocking filler on our 2009 Advent Calendar.

Head over to our updated videos section to check out the videos. And try not to drool on your stocking too much. Miss G doesn't like that sort of thing.
Add a comment
| | | |
| --- | --- | --- |
| Zombieland 2... in 3-D! | | |
Written by Ivan Radford
Wednesday, 02 December 2009 10:31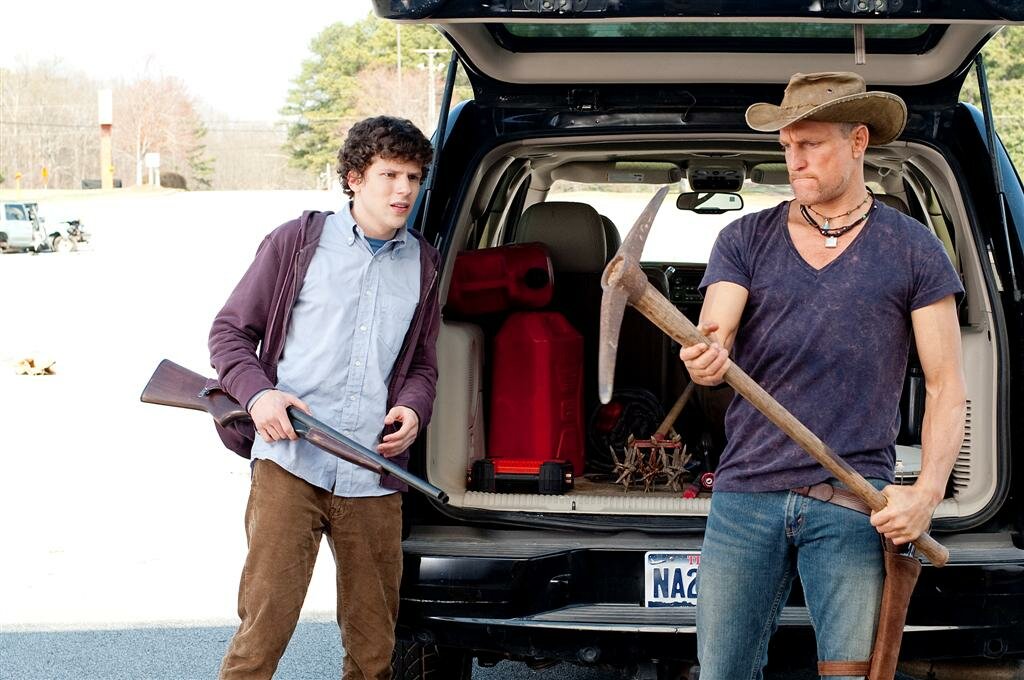 Yes, there's a sequel and yes, it'll be in 3-D. After Ruben Fleischer expressed an interest in following the funny film with another undead-bashing bloodbath, Sony have now gone ahead and signed up the same folk (Rhett Reese and Paul Wernick) to scribble a screenplay for them.

Ruben will return at the helm, as will producer Gavin Polone. He told Variety: "Everyone had fun watching the first Zombieland; making it a more visceral experience can only make it better. I don't think you want to see Ordinary People in 3-D. But Zombieland is clearly one movie that will benefit from the technique."

It'll also benefit from a lot of Woody Harrelson. Here's hoping he nuts up and shuts up a second time round.
Add a comment
| | | |
| --- | --- | --- |
| Iron Man 2 Poster | | |
Written by Ivan Radford
Tuesday, 01 December 2009 22:50
There's nothing else that needs saying, really. Other than Iron Man and War Machine (Don Cheadle) look frickin' sweet.

Head over to Yahoo Movies for a bigger version of the poster, along with a bunch of awesome stills. 
Add a comment
| | | |
| --- | --- | --- |
| Deathly Hallows - First Image | | |
Written by Ivan Radford
Tuesday, 01 December 2009 16:43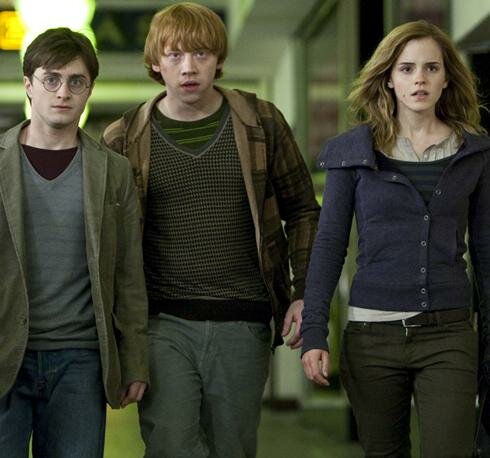 It's less than a year until the next Harry Potter film, but they've already released the first image from Harry Potter and the Deathly Hallows - the first part of which comes out in November next year.

Directed by the excellent David Yates once more, the two-parter sees Harry, Ron and Hermione shrug off their school uniforms for a stint in the real world. There's a load of CGI, I'm sure, but there's also a lot of mud, dirt and camping. So it's no surprise that the first photo, from USA Today, showcases them in their normal muggle clothes: "Me and Dan actually have some stubble!" Rupert Grint told USA Today. 

Yates added: "It's going to feel very real. We're going for a vérité approach. Being away from Hogwarts, they're like these three refugees on the run. They're out in the big bad world, facing real danger, unguarded by those wonderful benign wizards at Hogwarts. They don't have a home to go to."

Is it wrong to already get a little excited about this?
Add a comment
| | | |
| --- | --- | --- |
| First Photos of the Dawn Treader | | |
Written by Ivan Radford
Monday, 30 November 2009 14:55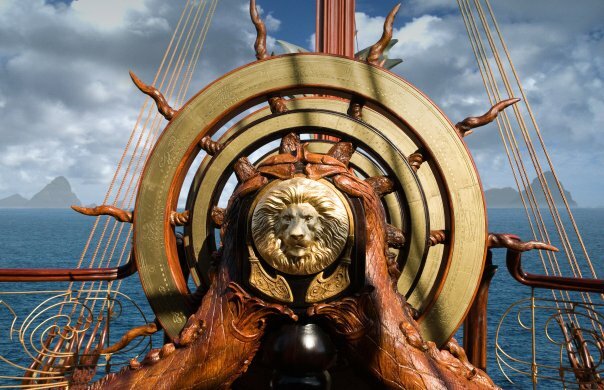 Disney definitely don't need a bigger boat. Just look at the size of that thing. The Dawn Treader, titular transport from the next Narnia film, has been unveiled in all its gilded glory for fans to drool over.

Posting pictures up on The Voyage of the Dawn Treader's new production blog, this is the first look at the boat that Georgie Henley's Lucy sets sail on next December. Until then, we get regular candid updates on Facebook, the first of which tells us all about the design of that ship.

But production designer Barry Robison isn't taking all the credit - look carefully at the mast and you can see the 200 odd names inscribed in the wood. Those are all the people who worked on building it. I don't mean look at the photo carefully - you can't see them there. But in real life you can. Apparently. And Facebook wouldn't lie to us. Neither would Barry. He seems lovely.
Add a comment
| | | |
| --- | --- | --- |
| Nicolas Cage Electrified in Bath | | |
Written by Ivan Radford
Monday, 30 November 2009 14:43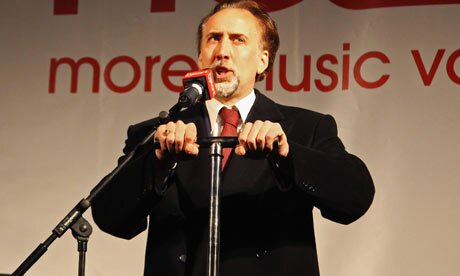 "I'm feeling kind of ELECTRIC!" yelled The Cage last Thursday. Why? Because he was channeling the power surge down his right arm and into a box, which would light up the Entire City of Bath for a month. Yes, that's right. Bath.

None other than Hollywood A-Lister Nicolas Cage himself switched on Bath's Christmas lights this year. Why? Well, he's had a few houses in the area for some years now, and a local lass popped a letter through his front door asking him to the event. And he said yes.

The Oscar-winner said he was "excited and privileged" before wishing the people of Bath and Somerset (and their "beautiful community") well for the new year. Needless to say, thousands of people flocked to the town centre and screamed as The Cage lit up Bath with his snowy beard and epic charisma. They screamed so loudly that some roads had to be closed. Bet Jim Carrey didn't have that effect.
Add a comment
| | | |
| --- | --- | --- |
| Hobbit Shoots in the Summer | | |
Written by Ivan Radford
Monday, 30 November 2009 12:34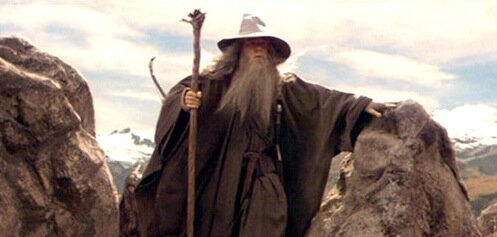 Peter Jackson must hate interviews by now. Whatever film he's working on, it always comes  back to Tolkein. No surprise, really, given the impending production of The Hobbit, but still, old PJ answers the questions gracefully and politely. Take this one from German site MovieReporter.net. They were chatting about Jackson's latest, The Lovely Bones, and he told them that The Hobbit would probably start shooting in summer next year.

Yes, that's right, Mr Hobbit himself revealed that the script's second draft will be finished by Christmas, with a budget then to be worked out before shooting around July time. Here's exactly what he said (translated via the magic of Douglas Adam's Babel Fish, the TARDIS, or whatever other MacGuffin you prefer. In this case, we'll call it TheOneRing.net.)

"We're currently working on the second script which we hope to have completed by the end of this year or beginning of next. When the scripts are completed, we can begin with the exact calculation of the necessary budget. We hope to start filming in the middle of next year. However, we've received no green light from the studio yet."
 
Don't sound so downbeat, Peter! I'm sure they'll green light it! After all, the last lot didn't do too badly at the Box Office...
Add a comment
| | | |
| --- | --- | --- |
| Roman's House Arrest: Polanski Gets Bail | | |
Written by Ivan Radford
Friday, 27 November 2009 08:48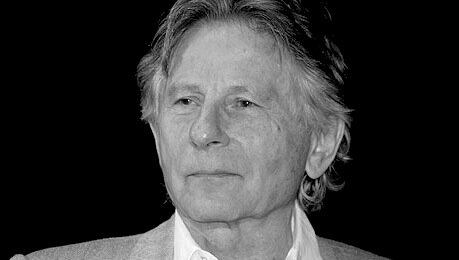 Director Roman Polanski, still contesting his charges of unlawful sexual intercourse with a minor, has been released on bail. The price for the release of the fugitive film-maker was $4.5m (approximately £2.7m). Polanski, 76, will be moved from jail in Zurich to his Alpine chalet, where he will be under house arrest.

Switzerland's justice ministry, having previously denied bail, emphasised that the process would be a slow and discreet one. The director of Rosemary's Baby and Chinatown, whose cause has won a lot of support from fellow creatives in the industry, will be fitted with an electronic monitoring bracelet.

After being arrested in September on his way to collect a lifetime achievement award, Polanski has been held in a Swiss prison, awaiting possible extradition after fleeing his 30 year old charges. They included raping a 13 year old girl by use of drugs and sodomy. These were later dropped for the lesser charge of unlawful sexual intercourse following a guilty plea. Polanski fled the US in 1978 on the day of his sentencing. He has avoided capture since.

The decision on his appeal will be announced in the next few weeks. His sister-in-law Mathilde Seigner told Le Parisien she was "very happy and relieved". She added: "[After his release] we're going to drink a nice glass of champagne and toast together". How they'll fit the toast inside the glass is another matter.
Add a comment
<< Start < Prev

191

192 193 194 195 196 197 198 199 200 Next > End >>


Page 191 of 230